Daughter's 'devastation' after report into Karen Welsh's death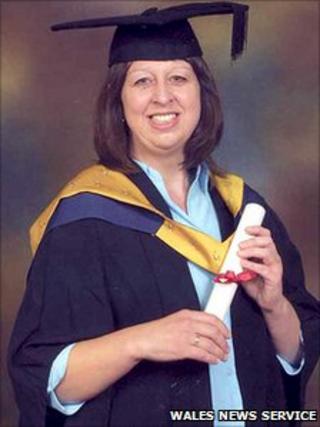 The daughter of a woman killed by a man with paranoid schizophrenia says she is "devastated and angry" the man responsible was not stopped.
Joanne Welsh spoke to BBC Wales after Healthcare Inspectorate Wales (HIW) said Karen Welsh's death was preventable.
Ms Welsh, 52, was strangled at her Cardiff home by John Constantine, 33.
She met him while in hospital for depression and helped him when he was homeless.
The HIW report had pointed to poor communication between health workers, police and probation officers.
Karen Welsh had offered Constantine a place to stay at her home in the suburb of Thornhill as he had been sleeping rough in the grounds of nearby Castell Coch.
But Constantine beat her around the face, strangled her and cut her wrist before going on the run.
Constantine was detained indefinitely under the Mental Health Act in March 2011 after admitting her manslaughter by diminished responsibility.
Joanne Welsh said the loss of her mother had left her "completely devastated and angry".
"When this report came out it wasn't a big surprise to me, as I'd met the man who actually did it, and I had terrible fears that he was a dangerous man, and unfortunately I was right," she told BBC Wales.
Ms Welsh said she had tried to warn her mother about the danger and the two of them had had a falling out about the matter.
"When I met him he'd spoken to me about these spirits that he sees, and I said to my mum 'I think he is schizophrenic'.
"The worse part is that I'm not a trained medical professional and even I could identify the symptoms he was displaying.
"I was in fear of him and I felt he was a danger to my mum."
She said that despite warnings her mother did not see that she was in danger.
"She saw him as someone who needed help. She sort of mothered him and took him under her wing.
"She suffered from depression herself and she was quite vulnerable at the time, and she didn't see it."
Ms Welsh said she felt "angry" that the Constantine did not get the help he needed.
"I don't know quite where to place my anger. I'm angry at him and I'm angry at all the services involved.
"Ultimately the failings lie with the services which did not prevent this happening."
She added that the family intended to pursue the matter further.
"Healthcare Inspectorate Wales only covers the remit of health and social care, which is quite ironic really, (as) it looks at how agencies don't link together and even the investigating body doesn't cover all the services involved.
"We'll be taking this to the police commissioner and where ever we need to pursue this."
'Short of expectation'
Named as "Mr J" in its report, the HIW said it was clear that "opportunities to engage" with Constantine had been missed.
"We are of the opinion had there been a more assertive and less fragmented attempt by health and statutory services to gain a better understanding of the risks that Mr J posed, it is possible that the homicide committed may have been preventable," it said.
The report also found police and probation officers failed to act on an arrest warrant for Constantine after he breached the conditions of his suspended sentence for assault, burglary and car theft
Cardiff and Vale University Health Board said it fully accepted the findings and was addressing any remaining issues as a matter of urgency.
"It is clear that communication between statutory agencies fell short of expectation and ultimately both patients were let down by that failure, with tragic consequences," it said.
South Wales Police said it had reviewed its policies for managing arrest warrants and had also appointed four mental health liaison officers to "strengthen our links with partners".