Salmonella outbreak linked to ham as cases rise to 57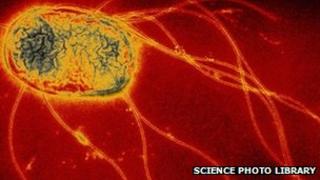 The source of an outbreak of salmonella in Conwy and Gwynedd has been potentially linked to cooked ham supplied to small independent butchers.
The number of confirmed cases had risen to 57 - 36 of them in England.
They range from a seven-month-old baby to a pensioner of 87. Nine people have been treated in hospital.
The new clusters in England include West Yorkshire, Thames Valley, Cumbria and Lancashire.
Experts from Public Health Wales (PHW) have been working with Public Health England, the Food Standards Agency and environmental health officers to find possible links between the cases and trace the source of the outbreak, after it was initially reported last month.
The suppliers have still not been traced but the link to cooked ham is common in the cases so far.
Dr Judy Hart, consultant in communicable disease control for PHW, said: "The strain of salmonella we are investigating is very unusual so it is highly unlikely that the cases in England and Wales are coincidence.
"Testing has been carried out on ham supplied to a number of butchers identified as part of the investigation."
No trace of salmonella has been found, but other hygiene issues were identified that led to one supplier voluntarily withdrawing certain batches of ham.
"A number of lines of inquiry are still being investigated and we continue to monitor the situation," said Dr Hart.
"Although it is an unpleasant illness, people who become ill with salmonella generally make a full recovery."
Last month, officials said five of the 22 people from north-west Wales, including children, were hospitalised but have since been allowed home.
The outbreak began in mid-July, with public health officials saying it was not concentrated on one particular town or locality. .
Health officials say 22 cases have been confirmed with the same unique strain but they have yet to find a common link.
Environmental health officers in Conwy and Gwynedd councils and PHW are investigating.
The clusters in England include another eight confirmed cases in West Yorkshire, including two people treated in hospital - according to Public Health England (PHE).
Another eight combined cases are in Cumbria and Lancashire - which includes an 86-year-old patient in hospital.
There are also seven cases in the Thames Valley and five combined in Bedfordshire and Hertfordshire.
Cases have also been reported in places as far apart as the north east of England and Norfolk.
Dr Bob Adak, head of the gastrointestinal diseases department at PHE, added: "Investigating outbreaks of food-borne illness is a complex process as people have to try and remember what they ate some weeks prior to becoming unwell.
"In this instance many reported eating cooked meats. The FSA is following all possible leads along with Environmental Health to try and establish the source of the outbreak. This process is ongoing"