Return to Wales for 1893 Triple Crown rugby medal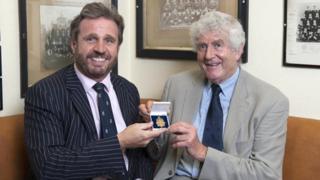 A solid gold medal marking Wales' first Triple Crown win in 1893 has returned to Cardiff after £3,000 was raised to buy it from its owner Down Under.
The 15-carat gold and enamel medal was awarded to Cardiff forward Frank Hill, dubbed the "Sam Warburton of his era".
The Welsh Sports Hall of Fame was given the chance to buy it at a reduced price from Mr Hill's descendent in Australia.
Hall of fame chairman Rhodri Morgan welcomed the medal back to Cardiff where it will go on display.
Hill won 15 caps for Wales and was described as the greatest forward produced by Cardiff RFC in their first 25 years.
He was awarded the medal for being one of the 17 players who helped Wales win its first Triple Crown.
It is thought to be one of only two surviving such medals of the 17 produced but had been forgotten in a drawer on the other side of the world for 30 years.
After Hill died in 1927, the medal passed on to his godson and was in turn left to his son Mark Lanning, who emigrated to Australia.
Mr Lanning rediscovered it and instructed auctioneers to find a suitable home for it in Wales.
He decided not to put it on open sale and instead gave the Welsh Sports Hall of Fame until the end of September to buy it for a fraction of the market price - on condition that it remained on display to rugby fans.
The Welsh Sports Hall of Fame - which was formed in 1980 to help recognise and preserve sporting achievements by Welsh sportsmen and women - pledged half of the asking price.
The Bristol-based auctioneers charged with selling the medal, Dreweatts & Bloomsbury, was so impressed with the story it helped find the rest of the money.
Senior director Richard Madley said: "I recognised it straight away as being a rare medal.
"I've been handling rugby memorabilia for 25 years and I've only ever seen one or two others of that ilk, but none as early as this.
"As soon as I knew the vendor was keen to see this medal return home to Wales we started approaching various institutions to see who might be interested in having the medal for an exhibit."
Mr Madley said the board of his parent company agreed to match the pledge.
The Welsh Sports Hall of Fame has described Hill as one of the first superstars of Welsh rugby or "the Sam Warburton of his era".
Aged just 18, he made his debut for Wales in a bruising 0-0 draw against Scotland in 1885.
In his nine-year international career he earned 15 caps - six as captain - and played more than 150 times for Cardiff.
As well as a celebrated rugby player, Hill was a successful Cardiff solicitor.
The only other known 1893 medal remaining is owned by a private collector, who has loaned it to the Welsh Rugby Union.