IPCC's Tom Davies: Police disciplinary system's 'grave flaws'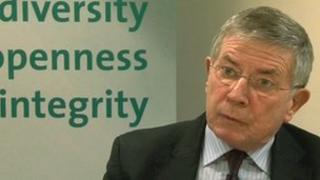 The disciplinary process for serious complaints against police officers has "grave flaws" and needs to be overhauled, says the outgoing head of the police watchdog in Wales.
A more transparent system was needed like that for doctors, said Tom Davies of the Independent Police Complaints Commission in Wales (IPCC).
But he added most police officers did their job well.
The Home Office said it expected the highest standards of professionalism.
As the head of the IPCC in Wales, Mr Davies oversees disciplinary investigations by all four of Wales' police forces: North Wales, Dyfed-Powys, South Wales and Gwent.
'Open and transparent'
He told BBC Radio Wales that the police disciplinary process had "some grave flaws and needs improving".
"The police disciplinary system is so internally based. Unlike with doctors or teachers, there are very few public hearings.
"There is an investigation and an outcome and then a sentence based on an internal set of procedures, with very little external light on it.
"We just feel now, and we've made our position clear to the home secretary, that the whole system perhaps needs to be looked at.
"The police are now in a position to be far more open and transparent and publicly accountable for the misconduct system."
'Mismatch'
Mr Davies was one of the founding commissioners of the organisation and helped set up the IPCC's Cardiff office.
But he is standing down after 10 years in the post.
He also suggested that there was a "mismatch" between what IPCC investigators saw as unacceptable behaviour by a police officer and the judgements that some police forces came to.
He said: "There's a spectrum. Some of the forces, not in Wales, are giving us far more of a mismatch between what we're suggesting would be gross misconduct and what the police outcome is."
While the "mismatch" was primarily in England, he spoke of the case of Gwent Police constable Shaun Jenkins - an armed officer who had sex with another man's wife while on duty - as an example in Wales.
Mr Davies has criticised the force for not saying in its disciplinary report that PC Jenkins was carrying his gun at the time.
He had been "livid" when Gwent Police reinstated PC Jenkins on appeal.
The "vast majority of very good police officers" deserved to know that those who seriously breached discipline were not dealt with softly, Mr Davies said.
He added: "I wouldn't want it to be misunderstood - we really do have a lot of confidence in the general work that the police do in this country.
"The small number of cases that go wrong that undermine that confidence are the important part that we concentrate on."
'Integrity'
He also said that many people did not realise that as a watchdog, the IPCC could only "bark" about the findings of its investigations.
Gwent Police declined to comment directly on Mr Davies's remarks about the PC Jenkins case, but referred to a previous statement in which it fully accepted the findings of the IPCC report which was critical of the way the force handled a complaint against the officer.
The statement said: "Our complaints handling processes have been reviewed and improved as part of our ongoing efforts to ensure we provide the best possible service to the public."
A Home Office spokesperson said: "We expect the highest standards of professionalism and integrity in all aspects of policing, and it is vital that when cases of misconduct occur they are dealt with effectively to ensure public confidence is not damaged.
"Independent members selected from lists maintained by police and crime commissioners sit on misconduct hearings to ensure transparency.
"However, decisions on what action to take at the conclusion of an individual misconduct case is a matter for chief constables and PCCs."
Earlier this year the Home Secretary announced a package of measures to improve police integrity. These include the College of Policing publishing a new code of ethics.