Pentre Primary School to close, Rhondda Cynon Taf council says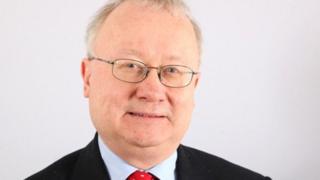 The Rhondda school at the centre of the resignation of former education minister Leighton Andrews is to close.
Rhondda Cynon Taf (RCT) council has issued notice that it intends to close Pentre Primary School next year.
Mr Andrews resigned as minister in June after a row over his defence of the school, which faced closure under his own surplus places policy.
The Rhondda assembly member had been pictured with a banner supporting the school, which is in his constituency.
Mr Andrews had repeatedly warned councils across Wales that they must close and amalgamate schools to deal with excess capacity.
His resignation led to a cabinet reshuffle in which Huw Lewis replaced him.
In a statutory notice, RCT council said it proposed to "discontinue Pentre Primary School... and make a prescribed alteration to Treorchy Primary School... by increasing its capacity to 420 places".
It plans to implement the changes on 1 September next year.
The move follows a consultation by RCT on closing the school, which has 73 pupils despite having room for 202.