Guto Bebb MP critical of BBC over pay-offs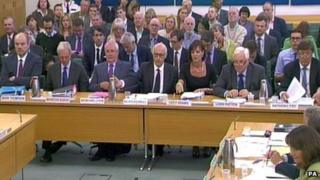 Senior BBC executives were more interested in defending themselves than the actions of the corporation over severance pay to managers, said an MP.
Guto Bebb, MP for Aberconwy and member of the Commons spending watchdog, was speaking after a hearing on Monday.
The Public Accounts Committee took evidence about payments to a handful of BBC managers that exceeded contractual obligations by £2m.
Former BBC director general Mark Thompson defended the severance pay.
He told MPs on the committee that the corporation had not "lost the plot" when it agreed a pay-off of almost £1m to his former deputy Mark Byford.
He accused Lord Patten, chairman of the BBC Trust which oversees the BBC, of making "unfair and untrue" claims not to have known about Mr Byford's payment.
Lord Patten insisted he had been told settlements for Mr Byford and former marketing boss Sharon Baylay were "contractual payments" agreed before his appointment.
"I'm in the position in which I'm accused of having misled the committee on something I didn't know and couldn't have been expected to know," he added.
The BBC has recently introduced a £150,000 cap on severance pay.
Mr Bebb said the committee hearing had been a "rather depressing affair".
"We had seven senior executives from either the BBC or the BBC Trust and they seemed to be more interested in defending their own positions than defending the actions of the BBC, so it was an unedifying three hours to say the least," he told BBC Radio Wales.
"It's very clear that the authorisation for the payments must have come from the executive board of the BBC because we're very clear about the fact that the Trust is not in a position to actually make that authorisation.
'Gross incompetence'
"The question was did the Trust know about these payments in advance?
"At a hearing prior to the summer recess, we were told by Trust officials that they had no prior knowledge of these payments.
"Mark Thompson, the former director general of the BBC, challenged that view and I have to say on the evidence presented yesterday I think it's very difficult to sustain the argument that the Trust had no prior knowledge of the extent of the payments, certainly in the few cases we discussed."
Mr Bebb's comments followed claims by committee chairwoman Margaret Hodge that there was "gross incompetence" in the way the BBC handled large pay-offs to outgoing executives.
Mrs Hodge, who questioned senior BBC figures at the hearing, said it was an "unedifying experience" watching them "try to avoid responsibility".
During the hearing she claimed the governance of the BBC was "broke".
Lord Patten said the BBC Trust needed to apologise for wasting money but that the system of governance could work.