Porth Remploy factory takeover deal expected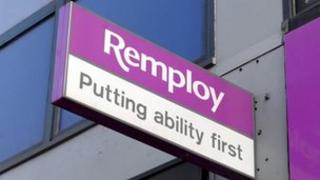 A deal is expected to be secured this week which will see a Remploy factory which employed 56 workers in south Wales being taken over by management.
Workers at the Porth computer recycling factory who did not take redundancy are expected to join the new venture.
Meanwhile, redundancy consultation is due to start with workers at the only other Welsh Remploy factory still operating - at Baglan near Port Talbot.
In all, 117 former workers have found work since other Welsh factories shut.
A meeting takes place on Tuesday to help former employees looking for work.
Seven Remploy factories in Wales were closed by the UK government last year because they were deemed "unviable" putting 280 people out of work.
The Porth factory is part of Remploy's E-cycle business which is being sold to a new company, E-Cycle Ltd, which has been set up by Remploy managers.
Redundancy consultations start with 54 workers at Remploy's Baglan furniture factory next week although its closure was not expected to be imminent as it still had to meet its orders, said a Remploy spokesperson.
The Welsh government has set aside £2.4m for organisations which offer suitable employment to disabled former employees of Remploy for a period of four years, including workers who set up their own business.
'Big carrot'
A total of 117 former Remploy workers have found jobs through the Welsh government's employer support grant.
On Tuesday, an independent assessment panel made up of unions, Remploy Employment Services and JobCentre Plus among others will meet in Cardiff to consider further applications for support.
Jason Seldon, who has worked at Porth for 14 years, said at least five former colleagues had found work since taking redundancy, adding that the government subsidy was a "big carrot" to offer prospective employers.
And he said while it would be a sad day with the end of Remploy's history in Wales, he was hopeful the Porth factory's future could be assured under its new owners.
Remploy said while its manufacturing operations across the UK would end, its recruitment arm continued to help workers find new employment.
The Department of Works and Pensions said its priority had been to safeguard jobs for disabled people, with a wage subsidy of up to £6,400 per disabled employee offered for prospective employers.