Cardiff wants to 'test market' on convention centre plan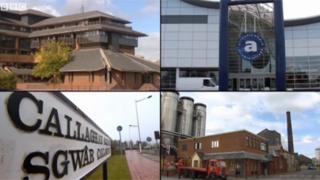 Cardiff Council is hoping to "test the market" in its ambitions for an international convention and exhibition centre for the city.
The council's cabinet is being asked to allow the local authority to work with developers to bring about the plans.
The city's lack of a convention centre was "a major structural economic weakness" according to council leaders.
A master plan, which includes improving transport, was unveiled earlier this year.
The council is set to take the next step in looking for developers and operators to come forward with ideas to support the council's plans, which also include an exhibition centre and indoor arena.
The next stage will help in "assessing the scope, viability and funding options".
Councillor Russell Goodway, cabinet member for finance and economic development, said: "We know that the city's reputation as both a visitor destination and a business centre is stronger amongst people that have actually visited the city than those that have not.
"Therefore an International Convention Centre, capable of attracting global conferences, conventions and events has to be a priority as it will help bring people to the city and will contribute towards our efforts to attract inward investment."
The council hope it could create 500 permanent jobs and hundreds more indirect jobs.
Previously, a consultation called Rebuilding Momentum, published in March, looked at four potential sites: the current County Hall in Cardiff Bay, the Red Dragon cinema complex nearby, the site of the Brains brewery and Callaghan Square, which are both situated close to Cardiff's central railway station.
The council's cabinet will discuss taking the next step on Thursday.
Senior councillors believe the council needs to act, as it faces competition from Bristol, who are already looking at their own plans.
Mr Goodway added: "Since opening in 1995 Edinburgh's ICC has attracted around 980,000 delegates to more than 2,400 events, generating an estimated £340m for the Scottish economy.
"This gives us a real indication that Cardiff, as the capital city of Wales, is losing out big time ."
The council wants the market to be tested over a proposal for a centre capable of hosting up to 1,500 delegates.
It also believes the Welsh capital is lacking a multi-purpose indoor arena, with a capacity of up to 15,000, and capable of attracting top entertainment events.
Meanwhile, the council also wants to make progress in another part of its master plan - a light rapid transit system linking the city centre with the bay and an upgrade of the city's central rail and bus stations.
As a first step, the council wants to buy out leases to buildings around the railway station which are on council-owned land.
Improving the "gateway" rail and bus stations is seen as key to the wider ambitions for an enterprise zone in the centre of Cardiff.
"The area around Cardiff Central railway station gives a poor first impression for anyone visiting Cardiff and the Council has been under pressure for some time to regenerate this run down part of the city centre," said Mr Goodway.