Patients 'dying' in surgery wait, claims Powys GP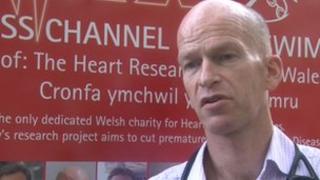 Patients are dying waiting for heart surgery, according to a leading doctor who has spoken out about delays at Wales' leading cardiac centres.
Powys GP Dr James Wrench, who leads the South Wales Cardiac Network, said those who need operations are supposed to be treated within 26 weeks.
But he said some cannot wait that long and are going private while others are being treated in England instead.
The Welsh government said they are expecting the situation to improve.
The University Hospital of Wales in Cardiff and Morriston Hospital in Swansea are the two centres in Wales where heart patients who need specialist treatment and cardiac surgery are referred.
But they are struggling to cope with the demands on their services.
Last month, correspondence between the Royal College of Surgeons and Health Inspectorate Wales revealed that 152 patients had died in the past five years while waiting for heart surgery in Cardiff or in Swansea.
They said the death rates could not be "explained by chance" and the long waiting lists were a "plausible explanation" for the figures.
Dr Wrench, a GP in Builth Wells, told BBC Wales Today he was angry about what had happened to a 62-year-old patient who came to him with chest pains just a few months ago.
"He was told he needed an urgent angiogram, he was told he would get that within a week or 10 days.
"Two months passed - and you know what happened next - he dropped dead in casualty in Nevill Hall Hospital from a heart attack."
Dr Wrench warned that patients who are not yet emergency cases soon will be - if they cannot access specialists.
He said he was particularly worried about one patient, Christine Wall, who has a heart condition called cardiomyopathy that is getting worse.
Dr Wrench said he is convinced she needs a pacemaker but the cardiologist she has seen locally disagrees, and was reluctant to refer her back to Cardiff where she was initially treated in 2009.
"I get breathless and tired and pain in my chest, all the time, and feel unwell all the time" she explained.
When she was rushed into hospital in Hereford as an emergency case recently, cardiologists in the English NHS were prepared to refer her to their specialists.
"Her condition has deteriorated since, to the extent that she's had to seek treatment elsewhere and she has gone to England to be referred to Hereford and they are going to refer her on to Birmingham if she deteriorates," added Dr Wrench.
Meanwhile, former paramedic Brian Worsley, 60, from Gorseinon near Swansea, who was diagnosed with chronic constrictive pericarditis almost a year ago, is determined to get the life-saving operation he needs.
Untreated his cardiac specialist says he has between two to five years before the condition kills him.
He was put on Morriston Hospital's waiting list six months ago and told he was an urgent case. He is still waiting for his operation.
"The last time I was at hospital I actually saw the cardiologist registrar who couldn't give me any explanation, any date, any time.
"I am extremely frightened because I am only just 60-years of age and I do actually want this operation.
"I want to live a lot longer, and a better life than what I am actually living now.
Increase operations plans
"I've given a lot to the health service and this is the time in my life when I actually need the health service to repay me, and I just feel so let down by them."
Abertawe Bro Morgannwg University Health Board - which is responsible for Morriston Hospital - said it recognised that waiting times for cardiac surgery are too long and apologised to all patients and their families.
"All cardiac surgery cases are clinically assessed and priority given to the sickest patients," it said in a statement.
"Unfortunately there are constraints in our service which limit the number of cardiac operations we can carry out.
"In particular, the availability of cardiac intensive care beds which every patient needs following their surgery."
The board said it was working with the Welsh Health Specialised Services Committee (WHSSC) on short and long term plans to increase the number of cardiac operations and cardiac intensive care beds.
Waiting lists 'falling'
In a letter to GPs from the senior consultant cardiologist, Cardiff and Vale University Health Board admitted it was concerned that "a small but significant number of patients have very sadly died or suffered a deterioration of their condition while waiting for surgery".
But it said "access for urgent or emergency work was unaffected by waiting time delays".
Last month, Cardiff and Vale said 12 cardiac patients had died in the previous 15 months, with its chief executive saying it was the worst winter pressures he had experienced in 30 years.
Professor Mike Harmer, the chairman of WHSSC, told BBC Wales Today said it was an "unacceptable situation we find ourselves in and we need to address it urgently".
He added: "As far as the longer term plans, we do need to ensure our cardiac units can deliver the number of cases each year that we anticipate they need.
"We're confident our calculations are right and we can deliver the number we contract. The problems have been we have had one of the worst winters going and this has meant we have not achieved that we want."
Prof Harmer said there were plans in place to ensure patients were taken off the waiting list by being operated on locally or by alternative providers privately or across the border in England.
"This is not as easy as it seems as most hospitals across the UK are working to capacity, so we have to try to find the best way," he added.
Health Minister Mark Drakeford has stressed that cardiac waiting lists in Wales have fallen every year for the last three years and blames the worst winter in 50 years for putting intense pressure on hospital resources.
He has refused calls for a public inquiry.
The Welsh government said it expects performance to improve with the new Heart Disease Delivery Plan, which was launched in May.
It states that for the majority of patients treatment for cardiac disease must start within 26 weeks.