Betsi Cadwaladr health board new chairman appointed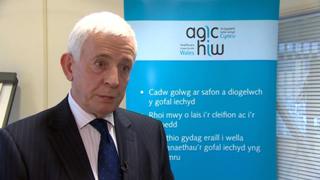 A new chairman has been appointed to head Wales' largest health board after criticism of its senior management team.
The chair and chief executive at Betsi Cadwaladr University Health Board stepped down in June, after a report revealed "significant failings".
Dr Peter Higson is a former chief executive of Healthcare Inspectorate Wales (HIW).
Health Minister Mark Drakeford said Dr Higson had "vast" NHS experience.
The health board has budget of £1.2bn and has responsibility for health care across six counties, including general hospitals stretching from Bangor to Wrexam.
HIW was one of the two audit bodies whose critical recent report into the health board's leadership led to the resignation of chairman Prof Merfyn Jones, chief executive Mary Burrows and the vice chair.
Dr Higson left the HIW last December, six months before the report outlining a catalogue of problems was published.
The HIW and the Wales Audit Office (WAO) found that the relationship between Prof Jones and Ms Burrows had broken down and compromised the organisation.
Other issues included:
Management failings, which are contributing to significant risks with hospital infections such as c.dificile being under-reported.
Big financial problems with the health board managing to avoid overspending sometimes only by delaying operations and letting waiting lists get longer.
Bosses have failed to plan ahead for big changes that are needed to hospital services with no clear plan for which services might be cut or reorganised.
The health board fully accepted the criticisms.
Mr Drakeford told AMs that the report made "sobering reading" but meant that Wales' NHS inspection and supervision procedures were able to pick up the problems.
'Experience'
Announcing Dr Higson's appointment, Mr Drakeford said: "He has a vast amount of experience working in the NHS, with a special emphasis on quality and safety issues, which will benefit the health board enormously."
Dr Higson, who was born in Llanrwst, Cowny, said: "Being from north Wales and having spent a large part of my career here, I am looking forward to help deliver first-class health services for the region."
The health board's acting chief executive, Geoff Lang, said: "Dr Higson has extensive knowledge and experience of working in the National Health Service and his appointment marks the start of a new chapter for the organisation."
The Welsh government said Dr Higson's appointment was regulated by the Commissioner for Public Appointments' and made in accordance with the Commissioner's Code of Practice for Ministerial Appointments to Public Bodies.