Devolve minor taxes to Wales, says Labour's Rachel Reeves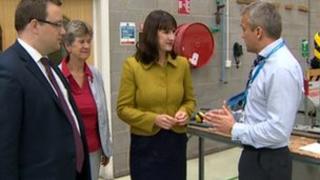 The UK government should devolve minor taxes to the Welsh government, says a senior Labour figure.
Shadow chief secretary to the Treasury, Rachel Reeves, said stamp duty and other charges should be handed over immediately.
A UK government independent commission backs the move to allow the Welsh government to borrow money to fund investment.
Ministers in London want further consultation.
Consultation is due to end on Tuesday and ministers in London have yet to formally respond to the proposal.
The Welsh government wants to borrow money to fund projects like the M4 relief road south of Newport.
Cross party support
But some experts believe borrowing on that scale would require powers over income tax to be devolved too - a change that would require a referendum.
Speaking during a visit to south Wales, Ms Reeves said: "We want a decision to be made.
"A decision was supposed to be made in the spring, and then it was put back.
"This has got cross party support in Wales, it's got the support of the CBI in Wales and across the business community, and the government are now back out to consultation again.
"I hope the government decides to devolve those minor taxes to the Welsh government, particularly stamp duty land tax, and give those borrowing rights to the Welsh government so they can invest in the infrastructure we crucially need here in Wales, particularly the M4 relief road.
"The government need to get on and do that."
Asked if minor taxes would create enough revenue to fund enough borrowing to meet the £1bn cost of the M4 relief road, she said: "Income tax requires a referendum - we need action now, not some time down the line."