200 jobs saved at Montgomery Tomlinson curtains firm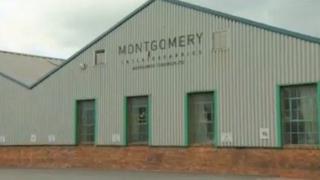 A venture capital company is to buy the Flintshire-based Montgomery Tomlinson (MT) curtains and furnishings business, saving an initial 200 jobs.
The 50 year-old firm, based in Bretton near Broughton, collapsed last month after earlier attempts to find a buyer failed.
KPMG were appointed administrators and they have have now brokered a sale.
146 staff at the warehouse received redundancy notices in August along with 384 workers in department stores.
These included retail concessions in Debenhams and House of Fraser.
BBC Wales understands it is now hoped the new owners will restart the business, employing an initial 200 staff, rising potentially to 300.
The buyer is understood to be Manchester-based corporate finance firm a2e Venture Catalysts Ltd, which claims a track record for "revitalising" firms that have previously got into difficulty.
a2e Venture Catalysts is led by high-profile corporate financier Amin Amiri, a Harvard Business School graduate and former Grant Thorton executive.
Mr Amiri has bought more than 20 companies since founding a2e in 2001.
Graham Montgomery Tomlinson, the founder of the business, said: "Ten days ago when administrators were appointed the employees, customers and suppliers were looking at the abyss."
"Then Mr Amiri stepped in and with great zeal and innovation overcame all the numerous obstacles and basically rescued MT against all odds."
Mr Amiri added that MT was in a "great position" within a niche sector.
"The core of the existing management have been retained and offered equity as a measure to energise and empower them to embark on an expansion of the business," he said.