E.cigarettes firm told to hand back old Ash Wales web domain name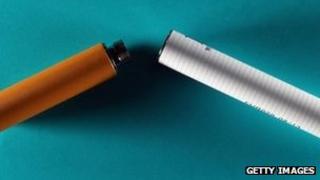 The boss of an electronic cigarette firm has been ordered to return a website domain name which had been used by an anti-tobacco charity.
Action on Smoking & Health (Ash) Wales forgot to renew the domain registration for ashwales.co.uk after it developed a new site in April 2011.
Vapouriz said it bought it "in good faith" to sell e-cigarettes as Alternative Solutions for Health Wales.
Online dispute resolution body Nominet called it an "abusive registration".
Nominet uses independent experts to resolve claims over domain names.
Lawyer Chris Tulley was appointed to review this dispute.
He said the Cardiff-based charity, which began in 1976, used the domain for four years before moving its online operation to ashwales.org.uk.
It kept its registration of the previous domain but failed to renew it due to an administration error.
It only discovered the domain had been bought by Vapouriz director Brett Horth, of Guildford, Surrey, in June this year.
Ash - a branch of the anti-smoking health group set-up by London's Royal College of Physicians - was alarmed to learn that Mr Horth was using the site under the name Alternative Solutions for Health Wales.
The site was offering electronic inhalers, which are designed to simulate smoking - a cigarette substitute Ash does not endorse as it "believes they are not proven to be either safe or effective", Mr Tulley added.
When the charity's chief executive phoned Mr Horth, the businessman said he had paid £4,000 for the "extremely useful" virtual real estate and refused to give it up.
Ash complained to Nominet, claiming the site "created confusion" for visitors and "misrepresented what the charity does and its clarity and vision".
'Charity's error'
Mr Horth insisted that he registered the domain in "good faith" and denied the charity's claim that he was trying to "pass off" his business as being affiliated to the charity.
He pointed out that there were no registered trademarks for Ash Wales when he bought the domain and that it was the charity's error in allowing its registration to lapse that gave rise to the dispute.
Mr Tulley, however, ruled in the charity's favour, saying it had used the Ash Wales name "for a significant period of time" and its lack of a trademark against the name at the time was "not determinative".
He said the domain's historic association with Ash Wales made the likelihood of confusion "readily apparent, should it be used for anything to do with tobacco smoking".
Whatever the price paid for the domain, the charity's failure to renew its registration was "not a licence to third parties, such as Mr Horth, knowingly to take advantage of the domain's historical connection with it", he added.
Mr Tulley concluded: "For the reasons outlined, I find that the charity has proved, on the balance of probabilities, that it has rights in respect of the name Ash Wales and that the domain name, in the hands of Mr Horth, is an abusive registration.
"In the circumstances, I order that the domain name be transferred to the complainant."
E.cigarettes will be licensed as a medicine in the UK from 2016, under new European regulations.
The UK currently has few restrictions on the use of e-cigarettes, despite moves in some countries to ban them.
Sales of the tobacco-free cigarettes have boomed worldwide since bans on smoking in public places were introduced.
But campaigners say the growing popularity of e-cigarettes could undermine years of anti-smoking efforts, with particular concerns about promotion to children and non-smokers.