Wales TUC: Pay in Wales 'falls fastest in UK'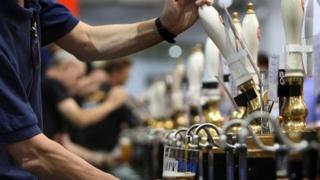 Full-time workers in Wales are worse off by £32 a week compared with five years ago, says trade union umbrella body the TUC.
It is the biggest fall anywhere in the UK.
The TUC study said Flintshire had suffered the biggest wage cut in Wales since the financial crisis started in 2007 - a drop of £57 a week on average.
Across the UK, workers are out of pocket by £30.30 for a 40-hour week.
The report also found that across Wales men's wages had fallen in real terms more than women's.
The Wales TUC urged employers that could afford to pay better wages to do so, adding it would help the economy.
After Flintshire, the next hardest hit county is Torfaen where average full time wages have fallen by £52 a week (11.8%).
Elsewhere, average pay in Powys fell by 11.3% - a loss of £49.19 a week - in the Vale of Glamorgan it dropped by 11.1% and in Denbighshire the hourly pay rates fell by 10%.
But in one local authority - Merthyr Tydfil - wages have not fallen at all in real terms since 2007.
England has seen a £30.62 fall in wages, in Scotland it is a drop of £21.54, and Northern Ireland has experienced a fall of £24.47.
The TUC's analysis is based on official figures from the Office for National Statistics, adjusted for inflation to reflect workers' buying power.
Wales TUC general secretary Martin Mansfield warned that families were struggling and were often forced to go into debt as household incomes were squeezed.
"Workers' real hourly pay rates have taken a hit over the past five years because wages have failed to keep up with inflation," he said.
"But this fall is also a result of the worrying increase in insecure and short-hours employment.
'Extra cash'
"And in many cases when people have lost their jobs and are fortunate enough to find work, they are forced to take jobs with fewer hours and on lower rates of pay."
He said the TUC was launching a Britain Needs a Pay Rise campaign to urge employers to pay workers a living wage - a pay packet that enabled a basic standard of living.
"If workers have more money in their pockets, they will feel more confident about spending that extra cash and that's something that families, businesses and the UK economy can all benefit from," he added.
Prof Chris Jones of Glyndwr University's business school in Wrexham said it was not surprising that Flintshire had suffered the biggest wage drop.
"It's right to think of Flintshire as a successful story when the UK economy is going well, when it's buoyant," he said.
"Obviously because it's very closely aligned to the manufacturing industry in the UK, when there's a deterioration such as we have had with the recession obviously it's going to feel it proportionately more.
"Probably what's gone on within a number of the organisations that pay substantial wages in this area is probably a degree of prudence.
"So what I mean by that, they probably cut their cloth accordingly... to protect the jobs of their workers in the future."