Deadline to buy rediscovered 1893 Wales' Triple Crown medal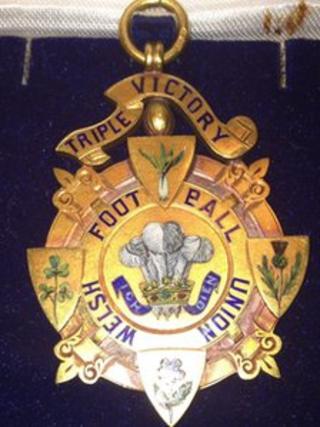 A medal from Wales' first Triple Crown win in 1893 could soon be coming home after 30 years forgotten in a drawer on the other side of the world.
The 15-carat gold and enamel medal, one of only two thought to still exist, belonged to a rugby player called the "Sam Warburton of his era".
Cardiff forward Frank Hill's medal ended up with family in Australia.
The Welsh Sports Hall of Fame has been given another month to raise money to buy it.
Hill won 15 caps for Wales and passed the medal onto his godson after his death in 1927.
The medal was in turn left it to his son Mark Lanning, who then emigrated to Australia.
Now 30 years after the medal was packed away in a chest of drawers, Mr Lanning rediscovered it and has instructed auctioneers to find a suitable home for it in Wales.
He has decided not to put it on open sale - and instead has given the Welsh Sports Hall of Fame until the end of the month to buy it for a fraction of the market price.
"I'm in two minds about this sale," joked Richard Madley of Bristol auctioneers Dreweatts & Bloomsbury.
"As a sports fan I'm delighted that Mr Lanning's preference is for it to go on public display somewhere in Wales.
"But as an auctioneer I'm ripping my hair out that he's prepared to let it go to the right home for just £3,000 when it would probably fetch five times that were it to go under the hammer."
He added that until the end of September Mr Lanning was only considering offers from organisations prepared to display the medal for rugby fans in Wales to see.
The only other known 1893 medal remaining is owned by a private collector, who has loaned it to the Welsh Rugby Union (WRU).
The Welsh Sports Hall of Fame has already pledged half of the asking-price and they are hoping to persuade either Cardiff RFC or the WRU to fund the remainder.
Hall of Fame trustee Rob Cole said: "Everyone's aware of the fact that this generous offer isn't going to be on the table for ever, and I believe the WRU discussed it at their board meeting, so we'll just have to wait and see.
"I'd say I'm more hopeful than anything else that we can get the deal done and the medal on display at either The Arms Park or the Millennium Stadium."
As well as a celebrated rugby player, Frank Hill was a successful Cardiff solicitor.
Aged just 18, he made his debut for Wales in a bruising 0-0 draw against Scotland in 1885.
In his nine-year international career he earned 15 caps - six as captain - and played over 150 times for Cardiff.
But Mr Cole said the numbers themselves do not tell the full story.
"Frank Hill was one of the first superstars of Welsh rugby - you could argue the Sam Warburton of his era," he added.
"He was a Cardiff regular at 17 and made his debut for Wales three days shy of his 19th birthday, captaining them a year later.
"And all this in a time of spoiling tactics and domination by the forwards when they'd quite literally kick lumps out of each other."
"His contemporaries described him as the best player ever to have come out of Cardiff and he helped usher-in the first golden age of Welsh rugby, so I think it's hugely important that we can secure his medal for the fans."