BMA: South Wales NHS shake-up 'lacks detail'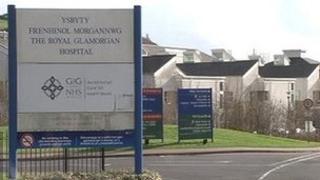 Proposals to reorganise health services in south Wales have been criticised for lacking detail by doctors' group BMA Cymru Wales.
The shake-up could see a number of specialist accident and emergency units cut and fewer hospitals offering specialist services.
Last month the NHS in Wales announced it was delaying a decision on the plan after receiving 53,000 responses to it.
Health bosses said they welcomed the BMA report but could not comment.
Hospitals in Cardiff, Swansea, Newport, the south-east Wales valleys and parts of Powys are affected by the proposals across five health boards.
'Unnecessary risk'
They involve changes to where patients can access consultant-led maternity care, specialist baby care, in-patient specialist children's care and emergency medicine (A&E).
Eight hospitals in the area currently provide one or more of these services but senior health officials warn this is unsustainable.
However, the plans - known as the South Wales Programme - have provoked concern, including protests in the Rhondda area about how the plans could affect the Royal Glamorgan Hospital in Llantristrant.
Health boards in south Wales and south Powys have been evaluating whether concentrating all the specialist services in four or five centres would be most suitable.
The centres would include the University Hospital of Wales (UHW) in Cardiff, Morriston Hospital near Swansea and a new hospital to be built at Llanfrechfa Grange near Cwmbran.
Dr Phil Banfield, chair of BMA Cymru Wales, told BBC Wales there was a "current and immediate" concern to sort out the NHS, while the plans for a new hospital in Cwmbran by 2018 were still in the outline stage.
He said: "The reconfiguration as it stands does not have enough detail either for the profession or the public to make up their minds as to what would be the most sensible way forwards.
"There's a kind of magic wish to shift hospital services into the community without any real discussion with the GPs as how this would be done. That's a real risk issue.
Referring to the possible impact on Royal Glamorgan Hospital, he said: "It's very simple straightforward idea in theory but there's no detail about how you increase the capacity or replace those services elsewhere.
"There's a reduction in the number of hospital beds in all the options. You cannot close hospital beds before you've expanded the capacity in the community. It doesn't make sense to us."
The BMA's other concern is the ambulance service, which it said would have extra demands placed on it if services were concentrated in fewer hospitals and patients had to be transferred.
'Continued improvements'
BMA Wales is also concerned the number of A&E departments in south Wales may be significantly reduced.
Dr Banfield said: "If you reconfigure accident and emergency services wrongly, you are going to get the wrong patient going to the wrong hospital and that's a danger given that our ambulance service is already failing to meet its current targets."
Figures during the summer showed ambulances in Wales had missed their national target to respond to life-threatening calls within eight minutes for the 14th month in a row.
Ministers have said a previously announced ambulance reform programme would "assist continued improvements".
Paul Hollard, director of the South Wales Programme health reorganisation, thanked the BMA for its response.
He added: "Opinion Research Services, on behalf of the South Wales Programme board, is currently in the process of analysing all the questionnaires, letters, submissions and petitions received during the course of the eight-week consultation and, at this stage, it would be inappropriate to comment on an individual response."
Previously, Health Minister Mark Drakeford has insisted there was a growing acceptance of why the NHS needed to change.
"As far as the future of health services in Wales is concerned, there is no choice but change," he has said.