Nasal spray flu vaccine for all children rolled out in Wales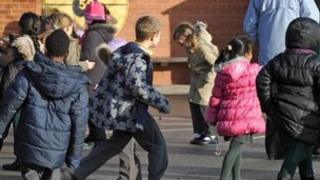 A nasal spray flu vaccine will be be offered to all children from the age of two to stop the disease spreading.
GPs can give the needle-free vaccine to healthy two and three year olds from September across England, Wales and Scotland.
Eleven and 12 year olds will be offered the spray at school. The programme will be rolled out initially to 100,000 children in Wales.
Wales' chief medical officer said it could stop flu spreading.
The vaccine is given as a nasal spray squirted up each nostril.
Experts say it has advantages as, apart from being needle-free, the spray works better than the injected flu vaccine in children.
The flu vaccine injection will continue to be offered to over-65s, pregnant woman and adults with long-term medical conditions.
Apart from protecting the individual the vaccination is seen as a way to achieve 'herd immunity' as it stops the spread of the illness from children to others that are vulnerable to flu such as babies and older people.
'Herd immunity'
Chief medical officer for Wales Dr Ruth Hussey said the nasal spray flu vaccine would be offered to healthy two and three-year-old children at their GP practice, while the 11 and 12-year-old pupils would be offered it in schools.
"Flu is an unpleasant illness at any age and can cause fever, chills, aching muscles, headaches and tiredness amongst other symptoms and, for some, result in hospitalisation," she said.
"The flu virus spreads easily among children as they are less aware of good hand hygiene or using tissues.
"Vaccination can help to stop the spread by protecting individuals and creating herd immunity."