Bear Grylls: St Tudwal island slide taken down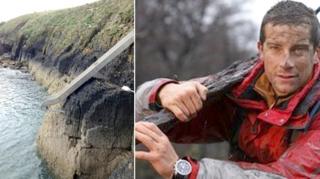 TV explorer Bear Grylls has removed a controversial slide which ran off his north Wales island and into the sea.
The father of three, who owns St Tudwal West, off Abersoch, Gwynedd, assured a local councillor the slide was never intended to be a permanent fixture.
Last month he faced a planning investigation after writing on Twitter that when using the slide "you hit the water very fast!!!!"
County councillor Wyn Williams said the slide had been removed for the winter.
"He was never going to leave it there," the councillor for Abersoch said.
"He stays there during August and he told me that it's not a permanent fixture. He would not allow it to be a permanent fixture in the winter months."
Mr Williams said Grylls would speak to the council before putting the slide back up next year in case he needs permission.
St Tudwal West lies around just over half a mile (1km) off Gwynedd's Llyn peninsula.
The rocky grass-covered island is about 700m (2,000ft) long and 200m (650ft) wide.
In July, Mr Grylls, who is also the UK's Chief Scout, submitted plans to build a harbour on the island close to the existing landing stage.