Concern over 24-hour A&E waits in Wales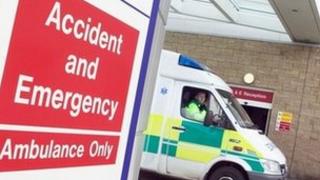 More than 2,000 patients waited more than 24 hours in hospital A&E departments in Wales over the last 12 months, figures show.
It means an average 39 people waited over a day for treatment each week.
A doctors' professional body said it showed more money needed to be put into ensuring emergencies were dealt with effectively and efficiently.
But the Welsh government said some patients needed to stay in emergency departments longer for observation.
Prince Charles Hospital in Merthyr Tydfil saw the highest number of A&E patients waiting over 24 hours at 533, according to the figures released to the Welsh Conservatives following a Freedom of Information request.
It was followed by the Royal Glamorgan Hospital in Llantrisant, which had 411 patients waiting longer than a day, and Morriston Hospital in Swansea, with 271 people.
Cwm Taf Health Board, which is responsible for Prince Charles and the Royal Glamorgan hospitals, said its figures included patients who were in beds in short-stay units for assessment.
Currently, A&E departments have a target to see patients within four hours before admission, transfer or discharge.
Some 92.9% of people were seen within this time, according to figures published earlier this month - below a target of 95%.
However, the Conservative Shadow Minister for Health, Darren Millar, said he was concerned about those who were having to wait much longer, particularly the elderly and vulnerable.
"Waits of just a few hours will be distressing and uncomfortable for many," he said.
"Spending more than a day waiting to be treated or discharged is unthinkable.
"These figures are unacceptably high and demand a guarantee of improvement from Labour's first minister.
"While NHS staff work tirelessly to provide a first-class service, Labour continues to implement record-breaking budget cuts, axe more hospital beds and downgrade emergency departments across the country."
'Dramatic reduction'
BMA Cymru Wales (BMA) said it was concerned about the closure of beds in hospitals and warned: "We cannot keep doing more for less."
"This exposes the fundamental lack of joined-up thinking in the NHS in Wales and the urgent and immediate need for a collaborative approach," said Dr Philip Banfield, BMA Welsh council chairman.
"The premise that hospital beds can be closed by shifting care into the community has not been planned with GPs, who see excessive cost-cutting community bed closures blocking vital hospital beds for new emergency admissions."
Cardiff and Vale University Health Board admitted there had been pressure on emergency care over the last 12 months and that some patients had spent too long in the emergency unit at the University Hospital of Wales.
"We apologise for that," said Peter Landstrom, head of operations and delivery for the clinical board for medicine at the health board.
"I am pleased to say that we have seen a dramatic reduction in those figures - only two patients have spent longer than 24 hours in the EU (emergency unit) in the last four months.
"That has been achieved through a huge amount of work focusing on how we manage and improve patient flow and we are continuing to build on that work going forward with teams across the health board and our partners in other services."
'Additional tests'
The Welsh government said the figures needed to be put into perspective.
"It is entirely inaccurate to indicate that 2,000 patients have waited for over 24 hours without any sort of assessment or form of diagnostic intervention," a spokesperson said.
"Ultimately, we expect all patients to be treated in order of clinical priority."
The spokesperson added: "There are occasions when it is entirely appropriate for patients to remain in emergency departments for longer than target times because doctors or nurses have determined that they need to carry out additional tests or wish to observe them before being sent home."
Allison Williams, chief executive of Cwm Taf Health Board, said: "We care for two distinct groups of patients within our A&E departments - some patients who are in beds in short-stay units for assessment and some patients who are on trolleys waiting to be admitted to a hospital bed.
"Our data has included both these categories of patients in the response to the Freedom of Information Act request for figures of patients waiting more than 24 hours in A&E departments - our data does not distinguish between those patients waiting to be admitted and those being assessed in short-stay units co-located in the A&E departments.
"There are occasions when patients do experience longer than expected waits to be admitted to a hospital bed and while this is not ideal, our staff continue to provide high quality care and compassionate care."