Welsh councils recycle 52% of waste hitting targets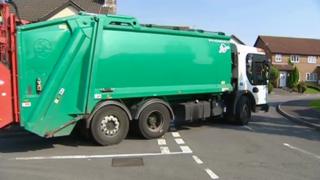 Wales is due to meet its first annual statutory waste target by recycling more than 50% of rubbish collected by councils, the Welsh government says.
Local authorities recycled or composted 52% of waste they gathered between April 2012 and March this year, provisional figures show.
By March 2013 Denbighshire had the highest recycling rate with 58%, while Bridgend and Caerphilly had hit 57%.
A second statutory recycling target of 58% is set for 2015-16.
The ultimate aim is for Wales to recycle 70% of its rubbish by 2025 and to become a zero waste nation by 2050.
Minister for Natural Resources and Food Alun Davies said: "I am delighted with the latest provisional figures which indicate that Wales achieved an impressive 52% recycling between April 2012 and March 2013 and in doing so met its first statutory recycling target.
"This is a real achievement and one that was born of hard work by local authorities and householder's right across Wales.
"This will help keep Wales on track to meet its second statutory target of 58% recycling in 2015-16 and will ultimately help us to reach our goal of becoming a zero waste nation by 2050."
The latest quarterly recycling figures for January to March 2013, which have also just been released, show that Wales recycled 50% of its waste - a slight increase on the same period last year.