Car insurer Admiral half-year profits rise to £181m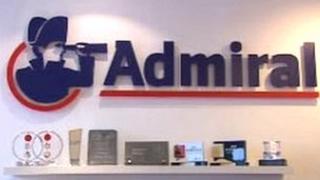 Admiral, the UK's second biggest car insurer, has announced a 6% rise in half yearly profits for the first six months of 2013.
The Cardiff-based firm said pre-tax profits stood at £181.4m, compared to £171.8m last year.
Admiral, which also has offices in Swansea and Newport and employs 6,600 people, owns brands such as Diamond, Confused.com and Elephant.co.uk.
Chief executive Henry Engelhardt said they were poised to meet expectations.
The group is said to insure one in 10 cars on the UK's roads.
Admiral said its employees were eligible to receive £1,500 of shares each via an employee share scheme thanks to the increase in profits.
Mr Engelhardt said he was "really pleased" with the results.
"Any time you can increase profits by 6% when competitors are cutting prices you've got to be happy," he added.
"We were able to increase profits largely due to excellent claims experience. In addition, Confused.com had a great first half, increasing its profits by over 20%."
Mr Engelhardt said it had been a "busy, exciting and profitable first half of 2013 and we are poised to meet our expectations for the full year".
In March this year the company announced annual pre-tax profits of £345m for the year to December 2012, compared to £299m the previous year.