Hospital bug victim 'warned ward staff' about hygiene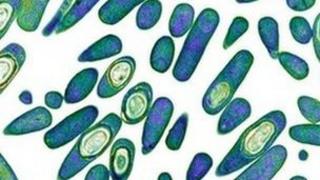 A woman who died after contracting Clostridium difficile (C. diff) had warned hospital staff about a lack of hand cleaning, an inquest has heard.
Ann Gregory, 81, of Colwyn Bay, was treated at Glan Clwyd hospital in Denbighshire and a community hospital.
Betsi Cadwaladr University Health Board (BCUHB) has apologised for an outbreak of C. diff at Glan Clwyd hospital.
North Wales deputy coroner Nicola Jones said the infection was caught in hospital but the death was accidental.
The hearing at Llandudno was told retired teacher Mrs Gregory, who died in December 2012, was "rigorous" about her own cleanliness.
Daughter Judith Gavin said her mother had been "appalled" by what she had seen during her stay in hospital following a stroke.
At Colwyn Bay Hospital, she complained that people did not take notice of the reminders on the walls urging them to clean their hands.
She pointed out a member of the clergy who had been holding hands with patients while praying and moving around the ward and had told the clergyman not to approach her.
The inquest heard Mrs Gregory later reported him to the ward sister as part of her concerns about cleanliness.
She was also unhappy that her hoist was kept over a chair used by patients with dementia who moved freely around the premises.
Earlier this month the health board apologised for its failure to control infections at Glan Clwyd hospital.
Senior resignations
A report said that between January and May this year there were 96 cases of C. diff infection at the site.
At least seven patients who died were found to be carrying the bug.
It was one of a series of problems which resulted in the resignation of three senior BCUHB figures.
The outbreak followed a period in which C. diff infection rates within the Betsi Cadwaladr board area were higher than in most other parts of Wales.
Deputy coroner Nicola Jones said her colleague, senior North Wales coroner John Gittins, was to meet the newly-appointed infection control officer for Glan Clwyd hospital.
She said she would ask for Colwyn Bay Hospital to send a representative to that meeting.
Mrs Jones said: "Prevention is better than cure."
Giving her conclusion on Mrs Gregory's death, Mrs Jones said: "It's highly unlikely she acquired C. diff in the community.
'Condolences'
"It's not clear as to which hospital she contracted C. diff from, but I'm satisfied it was a hospital-acquired infection."
She said the infection may have been acquired during a delay in discharging her from hospital.
In a statement after the inquest, the health board said: "We would like to extend our condolences to Mrs Gregory's family for their loss.
"We know that patients who are receiving antibiotics to treat conditions such as Mrs Gregory's are more vulnerable to Clostridium difficile and we see higher rates of infections in our older patients.
"We can confirm that a meeting between the North Wales coroner John Gittins, Tracey Cooper, the infection control specialist and Angela Hopkins, director of nursing and midwifery, has been arranged."