Cancer waiting times pledge 'broken', Welsh Tories claim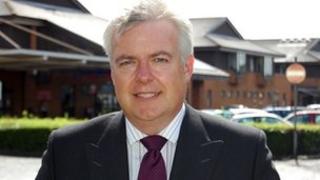 The first minister has been accused of breaking a promise to cancer patients after treatment waiting times worsened.
Carwyn Jones had pledged that by March at least 95% of patients would start urgent cancer treatment within the required 62 days after being referred.
But this target has been missed since 2008, with the latest figure at 82%.
Shadow Health Minister Darren Millar said he had broken his promise. The Welsh government said it now planned to meet target times by October.
The figures from March to June this year show that 82% of newly diagnosed cancer patients who are classed as "urgent" started treatment within the required 62 days after being referred by their GP.
The target of 95% has not been met since Mr Jones became first minister in December 2009 and the figures have worsened over the last year.
In January the first minister pledged to meet the target by the end of March.
But Mr Miller, the Welsh Conservatives' shadow health minister, said he had broken his promise to cancer patients to cut waiting times "yet again".
"Waiting too long to begin treatment is torture for a cancer patient and their family, causing them significant distress and undermining chances of recovery," he said.
"Just days ago, the Rarer Cancers Foundation told us that Welsh cancer patients are less likely that patients elsewhere in the UK to access the modern cancer treatments they need."
Macmillan Cancer Support said waiting times for non urgent cancer cases had also got worse in recent months, adding that the situation was "extremely disappointing".
Susan Morris, the charity's general manager in Wales, said: "Not only can this increase the distress felt by patients and their families, but it can also potentially have very real consequences in terms of people's recovery as we know the earlier people are diagnosed, and the earlier treatment begins, the more likely they are to have a good outcome.
"We now urge the government to work with health boards to identify what measures need to be taken to make sure waiting time targets are met and that high standard cancer services are delivered in a timely and effective way right across Wales."
Ambulance waits
The Welsh government said local health boards were continuing to reduce the backlog of people waiting beyond target times as part of a plan to meet target times in full by October.
A spokesperson insisted that the "vast majority of patients" were being seen within the required time periods.
"The number of patients involved in these statistics are relatively small and the interventions are often complex, meaning small changes can affect the overall picture generally," the spokesperson added.
Meanwhile it has emerged that Welsh ambulance response targets have been missed for the 14th month in a row.
Figures show 60.7% of emergency responses to immediately life-threatening calls arrived at the scene within the required eight minutes.
This is down from 62.6% in June 2013 and below the target of 65% which was last met in May 2012.