Internet trolls target Kate Lacey after identity mix-up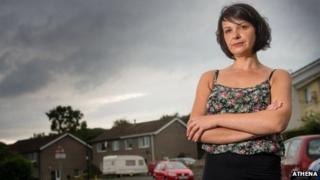 A woman has described how she was targeted by internet trolls after a case of mistaken identity.
Kate Lacey, 36, from Aberystwyth, Ceredigion, said she received a death threat email, as well as unwanted pizza deliveries at her door.
She believes the culprits mistook her for another local woman, who is campaigning against people sending hate messages via the internet.
Dyfed-Powys Police is investigating.
Ms Lacey, who runs a cleaning business, said she received an unexpected delivery of a large pizza order at about 23:30 BST on Monday 19 August and thought it must have been a mistake.
However, the next day, she received more than 400 emails at her business.
"One said 'I'm going to kill you in your sleep'," she said
"And I was getting text messages and phone calls regarding male escorts, and trying to set me up for adult work.
"I didn't know what the hell was going on. I thought it was a personal attack and starting questioning my friends, and wondering if I had made any enemies."
She said she contacted police on the Tuesday, but later that night received a phone call to confirm another pizza delivery, and by the following day had received about 1,300 emails.
"Some made no sense," she said.
"Others were not nice, saying things like 'cut your face off'.
Concerned it could turn into something more sinister, she taped up her letterbox, fearing for the safety of her and her 14-year-old daughter.
Ms Lacey said the emails and hoax pizza deliveries continued until she was told by a newspaper reporter she had been the victim of mistaken identity.
It is thought the campaign was aimed at Kaitlin Jackson, who is also from Aberystwyth and runs a cleaning business.
Ms Jackson is trying to force cyber-bullies off the internet.
Ms Lacey said: "I'd never met her.
"Obviously the people behind this put two and two together and came up with 55.
"I'm very relieved. I applaud what she's doing. I now know there are many horrible people out there. It's just a shame I got targeted as a result of it.
"I was very worried, for my daughter as well. She definitely felt unsafe here.
"The scary thing was they knew my address, so I'm lucky they were only sending pizzas. It could have been a lot worse."
Kaitlin Jackson said she was "gutted" over the incident.
She added: "Not for one second do I want to drag anybody else into what I'm doing," she told BBC Wales.
"I put myself in front of the trolls to try to stop them.
"For this woman and her daughter to have to go through this is absolutely dreadful."
The two women met for the first time at BBC Wales on Tuesday.
Ms Jackson said: "I'm glad I've met Kate and explained to her.
"She shouldn't have got caught in the crossfire."
Ms Jackson launched a campaign to combat internet trolls after her daughter was targeted three years ago.
She said: "The trolls are just a bunch of cowards with no backbone who sit behind computers and attack people."
Dyfed-Powys Police said it had received reports relating to internet trolls and was investigating.