Circuit of Wales, Ebbw Vale, in planning decision boost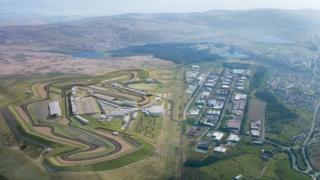 Plans for a £280m motor racing circuit have moved a step closer after the Welsh government said it would not take planning control of the scheme.
Developers want to use 830 acres (335 hectares) of land near Ebbw Vale, Blaenau Gwent, to host all motor racing championships, except Formula One.
Blaenau Gwent council has granted outline consent for the track.
But there were fears the development could have been delayed by up to a year if it had been called in.
The Welsh government now says it will be the council that takes future planning decisions relating to the project.
Environmental body Natural Resources Wales (NRW) had initially raised fears about the visual impact of the circuit and had been asked by ministers to advise them on whether the scheme should be called in for further investigations.
However, the organisation said earlier this month that its concerns had been lifted following talks with the Heads of the Valleys Development Company, which is behind the scheme.
It said it would not ask ministers to call in the plans but the Welsh government said it would still consider responses from other affected people before making a final decision.
The Open Spaces Society, a pressure group for common land, said it was "distressed" after Housing and Regeneration Minister Carl Sargeant said he would not take any action.
Thousands of jobs
"The minister's refusal to call this in and the U-turn by Natural Resources Wales is a major blow to us," said Kate Ashbrook, general secretary of the Open Spaces Society.
"However, there is still a long way to go. The development would have a devastating effect on registered common land."
Supporters say the track would generate £50m a year for the economy.
The plans for the circuit also include a hotel with conference facilities along with a business and leisure complex.
MP for Blaenau Gwent Nick Smith has previously said the venture would bring thousands of jobs to the area and would be a "real turning point in Blaenau Gwent's history".