Eric Pickles sparks new row over council meeting blogging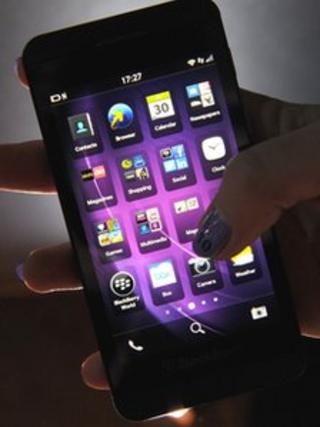 The local government secretary in England has re-ignited a row with Welsh ministers over councils opening up meetings for bloggers to report and film.
Eric Pickles challenged English councils to open up planning committees but also took a swipe at the Welsh government for "rebuffing" the idea.
At least 11 of Wales' 22 councils allow blogging from council meetings already.
A Welsh government source said attacks by Mr Pickles had become tedious.
He accused Mr Pickles of having an "unhealthy obsession" with the issue.
In Wales, at least half of Welsh councils allow blogging by members of the public at meetings, including Carmarthenshire, Cardiff, Conwy and Gwynedd.
In addition, three are happy for people to film proceedings - Anglesey and Monmouthshire, along with Bridgend, which says it is at the discretion of the meeting's chair.
Other local authorities say they are looking to develop a firm policy on the issue or have run trials, such as Blaenau Gwent which allowed social media to be used during a planning meeting into proposals to build the Circuit of Wales race track in the area.
BBC Wales contacted all of Wales' 22 local authorities about what they allowed.
It came after Mr Pickles warned that freedom of speech and independent hyper-local journalism was under attack in local government with residents being threatened with arrest for filming and reporting meetings.
'Obsessive'
He said he would be publishing new guidance to allow tweeting from and filming of planning appeals and he laid down a challenge to councils in England to open up planning and other meetings.
But Mr Pickles said the Welsh government had "rebuffed" the suggestion that the same approach should be taken to open up council meetings in Wales as is being pushed in England.
"Welsh ministers have claimed that the interest in openness is an 'unhealthy obsession'. Yet a blogger in Carmarthenshire was arrested and handcuffed by the police for filming a council meeting," he added.
A Welsh government source said: "Once again, Eric Pickles is abusing taxpayers' money to fund his unhealthy obsession with matters in Wales .
"He is misquoting and using misinformation to run cheap political attacks against the Welsh Labour government. He's now become a tedious repeat offender.
"The Welsh government has better things to do with its time and resources than attack Eric Pickles' abysmal performance in England. 'Obsessive Eric' clearly has too much time on his hands."
Earlier this year, Mr Pickles entered the debate on the ongoing row between Carmarthenshire council and blogger Jacqui Thompson who was arrested in 2011 after trying to film a meeting on her mobile phone.
Under the hashtag #daft arrest, he tweeted that the law had been changed in England allowing people to to report, tweet and film council meetings.