Anglesey mother's anger over Facebook troll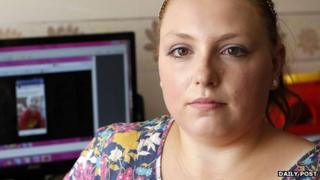 An Anglesey mother has talked over her anger after an internet troll took her son's picture from her Facebook profile and posted it online with offensive comments.
Problems began after Shiree Nicole Webb expressed her disgust online about photos of dead animals and twisted remarks about children on a free page.
She is unhappy her son's picture is still in circulation.
Facebook said it worked hard to remove the "malicious" minority from the site.
Mrs Webb, a 21-year-old mother-of-two, said: "I'd come across his comments about dead animals and twisted remarks about children on a free page and I just put a message on asking 'what's going on admin?' so that they would remove it.
"I couldn't believe it when minutes later he'd taken a picture of my young son from my profile and put it up with the comments "1 Down's Syndrome boy free to a good home - please take away before further abuse".
Mrs Webb added: "I was so shocked. A lot of other people had also commented on what he'd said but I was the only one he targeted. I felt sick."
She said she had set her privacy settings so only her family and friends could see her information on Facebook, but because she had used a picture of her sons as a profile shot, it was in the public domain.
'Difficult'
She says since the incident last Friday she has "repeatedly reported" the matter to Facebook, and even deactivated her Facebook page at one stage, but the picture is still in circulation.
"My cousin then said something and he took information from her profile too, and there's another page he's created for Ashford Social Service.
"I want Facebook to actually do something about it. This person is setting up bogus profiles.
"He's downloading children's pictures to his computer and that can't be right.
"I've been following him on the web and every time I log in now I click to report it as a "fake profile".
A Facebook spokesman said it took safety incredibly seriously, and had worked hard for years to develop clear rules and powerful reporting tools that enable people to easily report things that make them uncomfortable.
"We have built a large and highly trained team of safety experts who review these reports and take action, including escalating serious cases to the police," said the spokesman.
"Unfortunately, there will always be a tiny number of malicious people who are intent on harming others, online and offline. It is difficult to prevent this minority from behaving in this way - but once they do we will work hard to remove them from Facebook and make sure they are brought to justice."
The spokesman said it believed Facebook's "real name culture" made it a safer environment for all and it also encouraged young people and parents to use its social reporting tools to share reports with trusted friends and family.
Facebook also said people could visit its Family Safety Centre