GCSE exam results fall 'expected' in Wales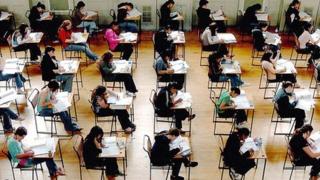 Thousands of pupils in Wales are awaiting their GCSE results with an expectation that there may be a fall in achievements in some core subjects.
Last year, Welsh pupils closed the gap with the rest of the UK in the highest grades, but overall A* to C grades fell for the first time in over a decade.
This year maths and science results could be down because of changes to the way the tests are set and marked.
Last year's results were overshadowed by a re-grading row over English exams.
The then-Education Minister Leighton Andrews came under fire when he ordered the WJEC board, which sets most of the GCSEs taken by Welsh pupils, to re-grade English language exams after the results were published.
He said grade boundaries were set in a way that was unfair to candidates in Wales and they had been the victims of an "injustice".
Nearly 2,400 pupils in Wales received better results after the review.
His decision marked a break with England where ministers refused to intervene, sparking a row between the Welsh and UK governments.
This year pupils in Wales sat a totally different paper to those in England which will also be marked in a slightly different way.
With respect to maths and science, BBC Wales education correspondent Arwyn Jones said that there was an ongoing drive to make core subjects more and more difficult, not just in Wales, but in England and Northern Ireland too.
Some teaching unions say changes to the tests mean it will be too difficult to compare results year-on-year.