Hoax 999 calls: Claims of stolen snowman and hiccups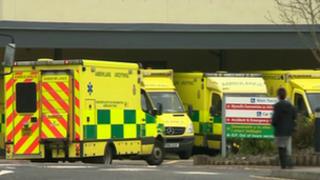 A man dialled 999 because he had hiccups and a child called the emergency services claiming a snowman had been stolen.
They were among almost 1,500 non-essential or hoax calls to the Welsh Ambulance Service in the last 12 months.
Another involved a woman who asked the operator what to do with her baby because her husband was at work.
Hoax callers have been criticised for putting other lives at risk.
Paul Hughes, medical director at the Welsh Ambulance Service, said: "Calls of this type put people's lives at risk as it may result in a delay to the emergency services answering genuine calls for help.
"During peak periods like the summer every hoax call has the potential to delay a response to a serious emergency.
"We ask the public to only dial 999 and attend emergency departments for life-threatening and serious illnesses and injuries - remember to keep emergency ambulances for your emergencies."
Other calls included a man with a hangover and someone who claimed they had heartburn after eating chilli con carne.
The overall number of hoax calls increased last year from 1,364 received the previous year.
The Welsh Ambulance Service wants the public to support the NHS Choose Well campaign and use the right service.
Unless a genuine emergency, the public are asked to consider a trip to a pharmacist or GP, or a call to NHS Direct Wales 24/7 on 0845 46 47 for confidential health advice and information.
Treatment for minor injuries, such as cuts, bites, stings and muscle and joint injuries, can be provided at the local minor injuries unit where there is no need for an appointment.