Germany 'more cultured' than UK says composer Karl Jenkins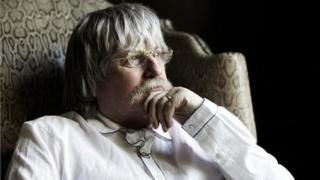 The classical composer Karl Jenkins has told BBC Wales that Germany is "a more cultured society" than the UK because of its decision to increase some public spending on the arts.
Jenkins, from Penclawdd, Gower, said public funding should be seen as investing in a nation's cultural future.
He described cuts to arts budgets in the UK as "tragic".
"In Germany it's just the opposite - increasing funding," he said.
"I read something the other day when they were asked 'how can you do this in these economic times?'
"The response was that 'we are investing in the cultural future of our country', and that's how it should be seen."
He added: "One would come to the conclusion that [Germany is] a more cultured society, a more cultured nation I suppose. I think these things are important, I don't know how endemic it is here really - if at all."
In this year's spending round, the UK government's arts funding was cut by five percent.
In Wales, the Welsh government has committed £34.13 million for distribution by the Arts Council of Wales in 2013/14, a slight reduction on the £34.24 million spent in the previous financial year.
By contrast, Germany's culture minister Bernd Neumann announced an eight per cent increase in this year's budget for the Bundeskulturstiftung, the German federal cultural foundation.
A spokesperson for the Welsh government said: "We recognise the importance of the arts and culture in Wales, how it helps define our national identity and how we represent ourselves in the wider world.
"We also recognise the wider value of the arts and it's because of this that, even in these challenging times, we will continue to strive to support our arts and culture in Wales."
'Good settlement'
The UK Government's Department for Culture, Media and Sport also defended its record on arts spending, despite a budget cut.
"[Culture Secretary] Maria Miller recently secured a good settlement for the arts in the spending round, which has been welcomed by cultural organisations all around the country," a spokesperson said.
"A five percent reduction for the arts - and for museums - demonstrates the [UK] Government's recognition of their economic and social value. The Government is committed to supporting the arts and over the life of this Parliament the sector will receive £2.9bn - £1.888bn in direct Government funding, plus more than £1bn in Lottery funding."
In January Mr Jenkins renewed his warning that Wales' reputation as a musical nation would decline with further cuts to youth music services.
At the time he told BBC Wales he also feared that music tuition would become the preserve of the rich.
His comments followed plans by cash-strapped councils to cut music funding.
The popularity among orchestras and choirs of two of his pieces, The Armed Man and Requiem, have made Jenkins one of the world's most performed living composers.
This summer he has revived his Adiemus series of recordings, which debuted in 1995 and uses an imagined language and tribal rhythm.