Blue plaque for miner David Davies's long pit career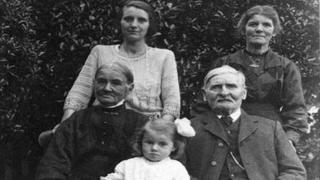 The former home of a miner who worked underground for 73 years has been commemorated with a blue plaque to mark his incredible career.
David Davies started at Lockett's Pit, Maerdy, in the Rhondda Valleys as a seven-year-old in 1849 and clocked off for the last time aged 80 in 1922.
His working life broke world records for the length of time to be a miner.
Ninety years after his last shift, a blue heritage plaque has been installed on his former home to mark his career.
Mr Davies's great-grandson, Geraint Morgan, was there to see the plaque unveiled on the house in Maerdy.
He said: "I never actually met David, he died before I was born. But spending the school holidays in that house, his presence was everywhere, I felt like I knew him.
"He was the ultimate self-made man. He started off with nothing, no money, no schooling.
"He first went down Lockett's Pit as a seven-year-old trapper, opening the air doors to let the drams of coal through, and finished up aged 80 as chief engineer.
"He taught himself to read and write and then studied engineering. And after a shift underground he'd come home and pass on his learning to his children.
"Because of David, they and all of us who came after have had many more advantages in life than he started out with.
"The only thing I have of his is a book he wrote recording all the folk remedies he picked up over 73 years for chest problems, eye injuries, rheumatism - you name it, it's in there."
Mr Davies was born in Pontrhydyfen in the Afan Valley on 19 February 1842.
David Owen of the Maerdy Archives said: "Back in 1976 the Guinness Book of Records went through all the paperwork, corroborated the oral traditions, and acknowledged David as the world record holder in their edition that Christmas.
"As miners press for a reduction in their retirement age of 60 it is sobering to consider the life of David Davies and his 73 years underground which will surely never now be bettered.
"And after all that service his only pension was free coal for the rest of his life."
Mr Davies taught himself to read and write in both English and Welsh, and would frequently pass on his skills to other miners.
Little Moscow
He was well known for treating injured colliers' wounds - in particular using his homemade herbal balm to ease eye injuries from shards of rock and dust.
He is thought to have been a leading light in the far-left lodge of the South Wales Miners' Federation at the pit in the early 1920s. They elected notable communist Arthur Horner as checkweighman, earning the town the nickname Little Moscow.
When Mr Davies retired in 1922, Horner himself requested that the long-serving miner's portrait be painted by visiting Soviet artists, a painting which still hangs in the art gallery of the Hermitage Museum in St Petersburg.
And if that is not incredible enough, it is possible that Mr Davies was also a distant ancestor of celebrated Welsh actor Richard Burton.
Equally remarkable but far more verifiable is that he lived until aged 86, fathering 11 children with his wife Elizabeth.
The couple celebrated their diamond wedding anniversary shortly before his death in 1928.