Taxis help RNLI rescuers get to surfers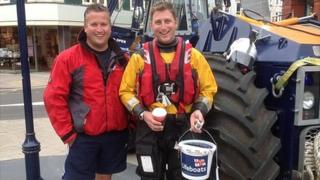 An RNLI crew had to flag down passing taxis to get to their lifeboat after getting a call to rescue four surfers who had got into trouble.
The crew had been in Aberystwyth town centre raising money for the charity when a call came to help the teenage surfers who had been washed out to sea.
The surfers had got caught in a rip current off Llanrhystud, Ceredigion, and were unable to get back to shore.
An RNLI spokesman said crews never knew when the call for help would come.
The crew had spent several hours with volunteers raising money in Aberystwyth as part of an annual fundraising event.
But when a call came in to rescue four surfers, they had to drop everything and flag down taxis to get them to the lifeboat.
The surfers were spotted by the crew and taken to safety.
A spokesperson for Aberystwyth RNLI said: "We are extremely grateful to the taxi drivers who transported our volunteer crew down to the station as a matter of urgency.
"RNLI crews never know when the call for help will come, but this was one of the more unusual 'pager moments' witnessing our crew all arrive by taxi at the same time."