Sporty women key to healthier Wales, says sports minister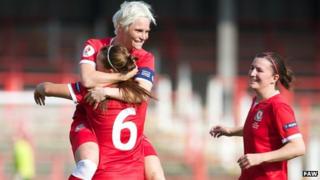 Encouraging more women and girls to take part in sport and regular exercise is the key to Wales becoming healthier, the sports minister has warned.
A new Sport Wales campaign is targeting women after figures show men are more likely to take part in regular sport.
It comes as 144 young footballers gather in Carmarthenshire for the Uefa European Women's Under-19 Championship.
Ex-Wales international Kath Morgan said she believed there was a lack of drive and a shift in attitudes was needed.
Some 51% of women and girls aged between 15 and 24 take part in sport at least once a week - compared to 62% of men.
Meanwhile 14% of women are members of sports clubs, according to the Sport Wales figures.
The organisation, which develops and promotes sport in Wales, has launched a campaign called What Moves You?
It aims to overcome confidence issues about women taking up sports by easing them back into sporting activities that are fun, sociable and varied.
Sports clubs and leisure centres will also take part, helping women and girls to find an activity that suits their interests.
Sports Minister John Griffiths said women's perceptions of sport, as opposed to keeping fit, could be a potential barrier to some.
"The term 'sport' can have negative connotations to some; being active and keeping fit are seen as less of a turn off," he said.
"If we are to become a healthier nation we have to see more women and girls getting involved in sport."
'Massive opportunity'
Mr Griffiths hopes football can play a part in encouraging girls and women to get active, with 6,000 women and girls currently registered as players across Wales.
The Welsh Football Trust hopes to target 1,000 new players by creating 12 Turn Up and Play sites across Wales for girls of primary school age.
The scheme is receiving support from Sport Wales and the Welsh government.
"It is not acceptable that we look at the statistics and keep talking about the fact that fewer females take part in sport than males," said Adele Baumgardt, vice chair of Sport Wales.
"We need to take action and address it."
Wales Women's football manager Jarmo Matikainen believes the Uefa European Women's Under-19 Championship, which kicks off on Monday, is a "massive opportunity" for the host nation.
He said he hoped the tournament would boost women's football throughout the country.
But former Wales football international Kath Morgan, who now coaches the women's national senior teams, told BBC Wales there needed to be a big shift in attitudes and culture if women were to succeed in the sport.
"I think a lot of the girls we see just aren't that driven - they have more facilities than we ever did when I was younger, but they don't seem to want to do the hard work," said Ms Morgan, who gained 51 caps for Wales during her 15-year playing career.
"I'm a teacher in my day job and since technology has come in it's very difficult for children to focus and commit," she said.
"It frustrates me as we have super, super talented girls and they're not quite understanding what they could be.
"I think a lot of it comes down to the lack of exposure of women's football. There are no real role models.
"For boys it's different. They have the drive as they see normal boys like [Wales and Tottenham Hotspur star] Gareth Bale succeed and think 'that could be me'."
The Wales Under-19s kick off their challenge later against Denmark at Parc y Scarlets, Llanelli.
They also face England and France in Group A.
It is the first Uefa tournament to be hosted by Wales.
Matches will also be played at Carmarthen's Richmond Park, the Bridge Meadow Stadium in Haverfordwest and Stebonheath Park in Llanelli.