South Wales NHS shake-up: 53,000 responses delay decision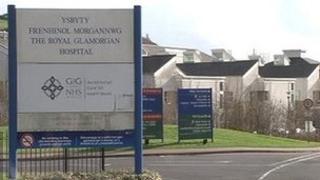 A decision on a controversial shake-up of hospital services in south Wales has been delayed after NHS bosses received 53,000 public responses to plans.
If given the go-ahead, fewer hospitals in the region would offer specialist services such as accident and emergency and premature baby care.
A decision, which was due in October, is now expected at the end of the year.
Health officials and ministers say change is needed to ensure the Welsh NHS meets UK standards.
Hospitals in Cardiff, Swansea, Newport, the south east valleys and parts of Powys are affected by the proposals across five health boards.
They involve changes to where patients can access consultant-led maternity care, specialist baby care, in-patient specialist children's care and emergency medicine (A&E).
Eight hospitals in the area currently provide one or more of these services but senior health officials warn this is unsustainable.
However, the plans - known as the South Wales Programme - have provoked concern, including protests in the Rhondda area about how the plans could affect the Royal Glamorgan Hospital in Llantristrant.
There is now a delay in people hearing the outcome of the proposals because of "the sheer scale of responses and the level of detail they contain" following a two-month public consultation.
Paul Hollard, programme director of the South Wales Programme, said they had received a "huge response", with 53,359 questionnaires, letters and detailed submissions received.
He said it "demonstrates how passionate people are about their NHS" and "the importance of ensuring high quality care is available as locally as possible".
"It also shows that people understand the significant pressures these services are under and the reasons why we need to make changes to ensure they are safe and sustainable into the future," he added.
'Change is coming'
Since September 2012 the health boards in south Wales and south Powys have been evaluating whether concentrating all the specialist services in four or five centres would be most suitable.
The centres would include the University Hospital of Wales (UHW) in Cardiff, Morriston Hospital near Swansea and a new hospital to be built at Llanfrechfa Grange near Cwmbran.
This would incorporate some services from Nevill Hall hospital in Abergavenny and the Royal Gwent hospital in Newport.
The consultation is looking at whether Prince Charles Hospital in Merthyr Tydfil, the Princess of Wales Hospital in Bridgend or the Royal Glamorgan would be the fourth or fifth centres.
Health officials have identified a "best-fit" option of services at the Bridgend and Merthyr Tydfil hospitals but not the Royal Glamorgan.
But they are also consulting on three other combinations involving the three hospitals.
Health Minister Mark Drakeford previously insisted there was a growing acceptance of why the NHS needed to change.
"As far as the future of health services in Wales is concerned, there is no choice but change," he said.
"Change is coming in the NHS in Wales, as it is in every other part of the United Kingdom."