Work starts on brain injury centre in Carmarthenshire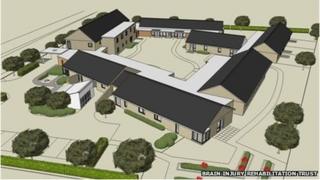 Work has started on a centre of excellence in Carmarthenshire to help people who have had a brain injury.
The Llanelli residential centre - the first of its kind in Wales - will help patients regain skills lost after an accident, stroke, assault or illness.
The Brain Injury Rehabilitation Trust project will ensure people can live closer to home while having rehabilitation.
The centre accommodate up to 24 adult patients when it opens in spring 2014.
It will have a team of neuropsychologists, occupational, physiotherapy and speech and language therapists based there, along with specially trained support workers.
Accommodation at the centre will include en-suite bedrooms, along with flats on site for people who are getting closer to being able to live independently.
There will also be flats within a bungalow for long-term use by residents who can live semi-independently but who still need the continuing support and immediate help from the centre's staff.
Around 50 full-time jobs will be created, ranging from clinical and management staff, through to care, support, kitchen and domestic teams.
Susan Munroe, director of the Brain Injury Rehabilitation Trust, said they were already recruiting for some of the senior posts for the centre, which is being built at the Llanelli Waterside development.
"We hope this new centre will make a real difference to people in Wales who have suffered a brain injury," she added.
Economy Minister Edwina Hart said the centre would "not only provide a highly specialised and valuable resource to help and support people with brain injuries but will also create a significant number of jobs that will provide a range of new employment opportunities".