RNLI's beach warning after rise in rescues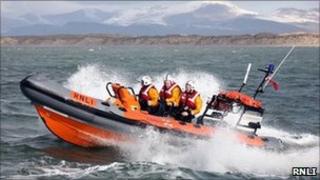 Beachgoers are being warned to be aware of tide times and prepare for changing weather conditions after the hot summer saw a rise in rescues.
The RNLI said they were particularly worried about the number of people getting into difficulty while using kayaks and inflatable dinghies.
Coastguards also warned of the dangers of cliff jumping, known as tombstoning.
UK lifeboats launched a third more times in July than during the same month last year.
On Saturday, four teenagers had to be rescued after they were washed out to sea on surf boards after getting caught in a rip current off Llanrhystud in Ceredigion.
Four anglers were also got cut off by the tide on a bank opposite Dylan Thomas's Boathouse in Laugharne, Carmarthenshire.
The hot weather has seen crowds drawn to beaches around Wales and with more sun forecast in the rest of the month, lifeguards and coastguards could continue to have a busy summer season.
The RNLI said, inevitably, extra people by the sea has brought more problems, such as missing children and people getting into difficulty in the water.
But it said it was particularly concerned about the number of people it was having to rescue who had got into trouble while using kayaks and inflatable dinghies.
"It's lovely weather, people buy an inflatable dinghy but they are not aware of the offshore winds and they get swept off out to sea," said a spokeswoman for the RNLI.
"In the Ceredigion area in particular, the lifeguards have been called out quite a number of times.
"On Wednesday, for example, they were out four times in four hours and three of those were to help people in dinghies and kayaks."
She urged people to be prepared when heading to the coast by being aware of the changing tides and weather conditions.
"If possible, I would say don't use dinghies at all because the conditions can change suddenly but if you do, use them in inshore, in shallow water," she added.
"When the offshore wind takes you it's hard to paddle back and it's easy to tire."
David Jones, watch manager at Swansea Coastguard, said they had been a lot busier this summer compared to last year, which was much wetter.
"We have seen an increase with things like vessels being cut off by the tide, missing children and boats running out of fuel," he said.
"If people are setting out on a long journey, they would prepare thoroughly. So we are asking people to do the same when they come to the beach."
Latest figures from the RNLI show that lifeboats around the UK were launched 1,594 times in July, up 33% from the 1,202 launches during the same month in 2012.
'Extremely dangerous'
Meanwhile, coastguards and police are warning about the dangers of tombstoning - where people jump off high cliffs or walls into the sea.
Barry Coastguard in the Vale of Glamorgan raised concerns after a teenage boy badly broke his ankle while jumping off the breakwater wall into shallow water in the town.
It said a large number of teenagers had taken to jumping off the 20ft (6m) high wall, unaware that the changing tide meant that sometimes there was just a few metres of water beneath them.
"Tombstoning is a concern as it is extremely dangerous," the coastguard said.
"Water depth alters with the tide so what was a deep pool at lunchtime might be a shallow puddle by teatime.
"Submerged object like rocks may not be visible either and they can cause serious injury if you jump onto them."
Elsewhere, Dyfed-Powys Police has joined forces with the Port of Milford Haven to distribute DVDs to youth clubs in the area about the dangers of tombstoning.