Lawrence of Arabia: A legend born in Wales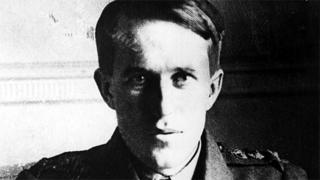 On the 125th anniversary of the birth of Wales-born army officer and writer TE Lawrence, BBC Wales' Phil Carradice looks at his life and work.
Thomas Edward Lawrence - Lawrence of Arabia as he is better known - was a mysterious, charismatic and difficult character who nonetheless made an indelible mark on the history of the world.
Part genius, part recluse, part egotist, part retiring academic, Lawrence was a man who conjured extreme emotions in everyone who ever met him.
He remains, however, the one figure from World War I whose name and story almost everybody knows.
Lawrence was born on 16 August, 1888 at Gorphwysfa in Tremadog on the edge of the Llyn Peninsula. He was not Welsh but the place of his birth certainly gives him the right to be called "an honorary Welshman".
The second illegitimate son of Sir Thomas Chapman, seventh Baron of Westmeath, Lawrence's ancestry was more Irish than Welsh although his mother, Sarah Jenner, did have Welsh connections. Her father was born in Chepstow, her grandfather in Swansea.
Dublin's polite society
Sarah, herself an illegitimate child, was the governess in the Chapman household. It was a cold, unhappy home, Chapman's wife having slid into a well of alcoholic abuse and emotional indifference.
Thomas Chapman sought and found comfort in the arms of Sarah and, when his wife refused him a divorce, the couple fled to Ireland. They called themselves Lawrence, after Sarah's father.
The disapproval of Dublin's polite society eventually forced the Lawrences to move on and, returning to the mainland, they settled in Tremadog, where their son Thomas Edward Lawrence was born.
The family stayed in north Wales for barely a year before moving on to find yet another home, this time in Scotland.
Nevertheless, it is tempting to think that Tremadog and the Llyn were influential in the development of the young boy, the area where the future Lawrence of Arabia first became enthralled by wild countryside and remote places.
The Lawrences settled in Oxford, where the young Thomas - Ned as he was known in the family - was formally educated. In time he came to consider himself Welshman enough to apply for and gain a Welsh scholarship to Jesus College, Oxford.
The image of Lawrence as an un-military, other worldly oddball, as portrayed in Lawrence Of Arabia, the Peter O'Toole film about his wartime career, might have a degree of truth in it.
But Lawrence still found the inclination and the time to join Oxford University's officer training corps and in January 1914, eight months before the war began, he was co-opted by the army to carry out a military survey of the Negev desert.
Lawrence became an archaeologist, specialising in the Middle East, and quickly fell in love with the empty desert regions. Their romantic wildness appealed to the poet in his soul.
Lawrence's part in the Sinai/Palestine campaign - in particular the Arab Revolt against their Turkish overlords, which took place from 1917 to 1918 - is well known. His guerrilla campaigns behind enemy lines and, in particular, his capture of Aqaba are the stuff of legend.
But with peace came the inevitable betrayal of the Arab nations that Lawrence loved and, disenchanted by British Imperial designs, he left the Middle East to return home.
Always a contradictory character, Lawrence resigned his commission in the army and withdrew from the limelight that, thanks largely to the articles of American journalist Lowell Thomas, now surrounded him.
In an effort to escape the fame or, as he sometimes saw it, his notoriety he enlisted in the RAF as aircraftsman John Hume Ross.
At first Lawrence was rejected by the RAF recruiting officer, WE Johns, the creator of the Biggles stories, who thought that there was something rather "fishy" about his application.
Lawrence returned later in the day with a letter signed by someone in high authority, ordering Johns to enrol Mr Ross.
After a few years, when Lawrence's deception leaked out to the press, he resigned from the RAF. He then enrolled in the Tank Corps as TE Shaw, a role and name he retained until shortly before his death.
In some respects, the desire for anonymity was both understandable and laudable. And yet, while he was seemingly desiring only peace and quiet, TE Lawrence was also courting fame and popularity.
His 1922 book Seven Pillars Of Wisdom cemented his place - and his version of events in the desert - in popular culture and imagination.
He was the one romantic figure in a war that had been bloody and unimpressive. No wonder people took his story to their hearts.
Handlebars
Over the next 10 years Lawrence became increasingly friendly with literary personalities including Thomas Hardy and Henry Williamson, and saw himself as a writer rather than a warrior.
He wrote nearly 6,000 letters during these years and also produced another book, The Mint, about his time in the RAF.
Lawrence was killed in 1935, having been involved in an accident when, riding his motorbike to post a number of letters, he suddenly came across two boys on push bikes in a dip in the road.
He swerved to avoid them and was thrown over his handlebars onto the road. He died a few days later, on 19 May 1935, having never recovered consciousness.
The house at Tremadog where TE Lawrence was born remains intact, and now functions as a hostel. The connections with Lawrence are tenuous but strong enough to ensure that he is not forgotten in Wales.
Lawrence had led an adventurous and fascinating career. A truly romantic figure, he once summed up his attitude to life when he wrote what could well have been his obituary:
"All men dream: but not equally ... the dreamers of the day are dangerous men for they may act on their dreams, to make them possible. This I did."