Boy's term for sex attack on teacher reduced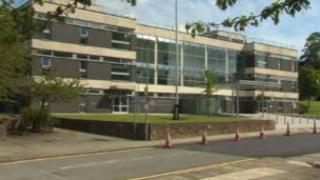 A 15-year-old boy who barricaded a teacher in a classroom and laughed as he carried out a sex attack on her has had his four-year sentence reduced.
The teenager, who was 14 at the time of the offence in February, had admitted serious sexually assaulting the woman.
A Mold Crown Court judge cut the boy's sentence in youth custody by 12 months.
The original hearing was told how colleagues tried to break down the door to help the woman who was screaming as she was assaulted.
The boy has been registered on the sex offenders' register for life.
He had been given a four-year sentence in youth custody by the judge at Mold Crown Court, Mr Recorder Greg Bull QC.
But the judge had the case re-listed after reconsidering the sentence he had imposed.
The original hearing was told that the offender had been staying at a care home in north Wales after being accused of an earlier sex assault.
Karl Scholz, prosecuting, told the court how there had been no incident between the boy and the teacher until February when he had "hugged" her when they were alone.
"Two days later she took him for his first lesson of the afternoon. His behaviour was causing her concern. She left him for a moment to make a telephone call and when she returned she asked him what was wrong and he walked off into the computer room."
The court heard how the teacher followed him into the room where he tried to hug her.
She managed to free herself and tried to leave the room.
"As she went to the door he grabbed her hand and started to pull her towards him. She realised the door was locked," said Mr Scholz.
The teenager then laughed as he carried out a serious sex attack on the woman.
'Sexual aggression'
When her colleagues managed to get into the room, the woman was clearly distressed. She has since been unable to return to work.
The teenager had previous convictions for sexual assaults and had displayed disturbing sexual aggression against women and men.
Steven Edwards, defending, said he had suffered a difficult childhood and had been the victim of abuse himself.
Recorder Greg Bull QC said: "You attacked one of your teachers, barricaded her into the computer room and forced yourself on her. It was a terrifying experience for a woman who was only there to try and help you.
"You were in this unit because of a previous sex offence. You are bordering on being a very dangerous young man. You seem unable or unwilling to take advantage of help from professional people.
"The effects of your attack are significant and the only mitigation is your age and your plea of guilty. This is part of an escalating pattern of behaviour and the only sentence is detention."