Roman temple clues found during dig in Conwy Valley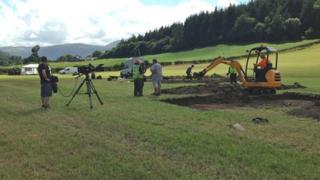 The remains of what is suspected to be a Roman temple have uncovered by archaeologists who had been searching for a lost 11th Century church.
Archaeologists had been trying to find a Norman church on farmland in the Conwy Valley after baked remains became apparent during the hot summer of 2006.
But as the dig got under way the team realised there was a much older building on the site.
Researchers are trying to establish if it was a temple used by Roman soldiers.
The dig, which was being filmed for a Welsh-language television series, had been to try and uncover the remains of a church but instead artefacts dating back to Roman times were unearthed.
"There had been questions before the dig began because a church would be orientated east west where as this building was north south and as soon as we started to dig all we found were Roman artefacts," said Dr Iestyn Jones, presenter and archaeologist on the programme.
The finds were recovered from two trenches are thought to date back to the 2nd and 4th Centuries, said Dr Jones.
He said more work was needed to determine if the site was a mithraeum - a temple used by Roman soldiers.
"One was found in Caernarfon in the 1960s but that was dug out and houses built on it, so whilst this find is not unique it is very unusual," he said.
"It was thrilling really and we had experienced archaeologists with us who take part in digs all around the country and they were delighted too."
Morgan Hopkins, a series producer and director with Trisgell Television Company, said: "I was quite certain that we would discover a Norman church in Llwydfaen but it became obvious as we were digging, and from the discoveries, that this was a Roman building.
"We discovered six bronze Roman coins, countless pieces of slate and Roman nails as well as pieces of Roman pottery.
The S4C series is due to be broadcast in 2014.