Katherine Jenkins's old church receives Heritage Lottery Fund grant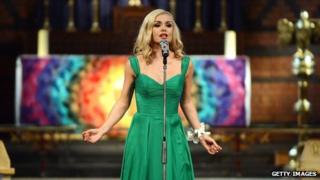 The church where Katherine Jenkins learnt to sing has been given nearly £200,000 to restore it to its former glory.
St David's Church in Neath will receive £199,300 from the Heritage Lottery Fund (HLF) to go towards its £500,000 appeal to renovate its landmark tower.
St Barrwg's Church in Bedwas received £180,300 in the UK-wide scheme to restore places of worship.
Former chorister Jenkins held a concert at St David's in May to raise funds.
The event reportedly raised £12,000 towards the appeal to restore the tower of the Grade II-listed Victorian Gothic style church built in 1866.
After the announcement from the HLF, Jenkins said: "I have been very proud to support this beautiful church over the years and have been closely involved in helping the congregation to secure its future.
"I fondly recall the many opportunities I had to sing at St David's when growing up in Neath, which played a big part in my development as a performer."
St David's Church and St Barrwg's, which dates back to the 12th Century, are among the first of 35 churches across the UK to be awarded a grant through HLF's new Grants for Places of Worship programme.
It was launched in March to fund new restoration works that encourage greater community use.
St Barrwg's, which has been closed for a year due to structural problems, will use its grant to repair the roof, install toilets and a kitchen so it can be reopened.
'Heart of community'
Alex Glanville, head of property services for the Church in Wales, said: "The building will be restored but also be available for a wider range of people and activities.
"It will really take the church forward in the heart of the community for the future."
The Reverend Peter Crocker, from St Barrwg's Church, said they had had "no option" but to close the church.
"This grant gives us the chance to reopen the church both for worship but also for use by everyone in the area, as a congregation we are very excited by the possibilities," he added.
St Barrwg's will hold a public meeting at Bedwas Methodist Church on Wednesday 28 August at 19:00 BST to discuss how the entire community can use the church.
Jennifer Stewart, head of HLF Wales, said churches provided a powerful connection within communities.
"Not only will our awards secure the immediate future of these particular buildings, it will also empower congregations to adapt them, where necessary, so they can be enjoyed more widely throughout the community and in turn enable them be more sustainable for the future," she said.