Prince's Trust research finds benefits fear in young people in Wales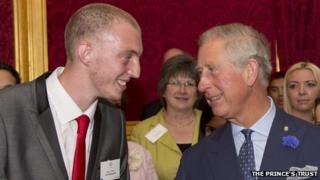 One in five young people in Wales believe they will "end up on benefits", a youth charity's research has found.
That number increased to one in three for those who achieve poor GCSE grades.
The Princes' Trust, which carried out the research, says ambitions are being "crushed" and it wants more help for school leavers with few vocational qualifications.
The Welsh government said it was spending an extra £40m on vocational and in-work training over two years.
Last year 49% of 15-year-olds in Wales did not achieve an A* to C grade in English or Welsh as a first language and mathematics.
The latest exam results are due out next week.
Lesley Kirkpatrick, director of The Prince's Trust in Wales, said: "Thousands of young people's ambitions are crushed by exam results each year.
"Those with fewer than five GCSEs are almost twice as likely as their peers to believe they will never amount to anything.
"Many of these young people have faced problems at home or bullying at school, so their exam results don't reflect their true potential.
"We need to do more to support those who are not academically successful, helping them develop vocational skills. Government, employers and charities must work together to get them into jobs.
"We need to show young people living here in Wales that they can be a success, even if they don't get five good GCSEs."
The research was based on interviews with 2,342 16 to 25-year-olds - 118 in Wales - and 164 young people who left school with less than five A* to C GCSEs.
It also found:
One in three (36%) living in Wales believe those who fail their exams will struggle to find a job in future.
One in 10 young people (13%) in Wales believe their exam results will "always" hold them back.
More than a quarter (27%) admit they will "always" feel inferior to those who did better at school.
The charity supports disadvantaged young people across the UK. It runs intensive training schemes for struggling school leavers, giving them the skills and confidence to find work.
Three out of four of those it helps move into work, education or training.
Helen Mary Jones, chief executive of the charity Youth Cymru, said the report backed up what the organisation hears anecdotally from young people in the youth clubs which it supports.
She said: "That lack of aspiration is really dangerous for those young people and there's a lot that we need to do as a community to overcome that because where aspirations are low we know that achievement is going to be low."
She added the charity backed the idea of young people learning more practical skills earlier in school as well as a stronger "join-up" between services to pick up on young people before they reach the point of bad exam results.
Ms Jones told BBC Radio Wales: "We risk having what we had in Wales in the 1980s, which was a lost generation of young people who didn't get into the right routes when they were 16, 17 and 18."
'Fulfil their potential'
A Welsh government spokesperson said: "We want to ensure young people have access to high-quality education and training opportunities in order to fulfil their potential, either through a vocational or academic route.
"That is why we are investing heavily in successful vocational and work-based training programmes such as apprenticeships, allocating an additional £40m over the next two years .
"This includes our Young Recruits Programme (YRP) initiative, which offers a wage subsidy to employers taking on a 16 to 24-year-old apprentice. This means young people can earn while they learn and during 2011/2012 the apprenticeship completion rate stood at 85%."
The spokesperson said the youth employment programme Jobs Growth Wales had so far created 7,876 job opportunities, with 5,731 young people filling those jobs.