A&E waiting time target in Wales improves to 92.9%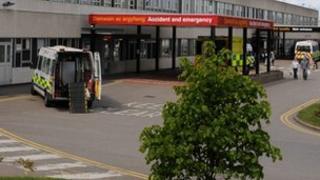 An accident and emergency waiting time target for hospitals to see patients within four hours in Wales has been narrowly missed.
A total of 92.9% of patients spent less than four hours from arrival until admission, transfer or discharge in June compared with the target of 95%.
Waiting times improved for the fourth successive month, the figures show.
The Welsh government said it was a "move in the right direction".
The latest figures show average daily attendance has been fairly stable since April.
It follows a jump of around 15% in attendances between January and April, blamed on UK-wide pressure on emergency care.
'Highest point'
Meanwhile, a total of 483 patients spent 12 hours or more from arrival until admission, transfer or discharge in June.
This figure is down 78.7% from 2,268 since April when the target was introduced to eradicate all 12 hour or more waits within all emergency care facilities.
A Welsh government spokesperson said: "Since April, the number of patients spending 12 hours or more in emergency care facilities has fallen by 78.7%.
"This is a considerable achievement and shows health boards moving in the right direction to tackle the challenges facing A&E.
"Waiting times in A&E have improved for the fourth month in succession, with the percentage of patients being seen within four hours at its highest point this year."
Last week it was revealed that more than 10,000 patients have been waiting more than the maximum 36 weeks for NHS treatment at the end of June, an increase of 1,200 on the previous month.
Conservative AM Darren Millar, Shadow Minister for Health, called for extra cash so fewer patients "are forced to endure such unbearable waits for treatment".
He said: "The Welsh Labour government's target for the number of patients waiting over four hours in A&E departments has not been met once since Carwyn Jones became First Minister nearly four years ago."