Premier League joy on and off the pitch for Cardiff and Swansea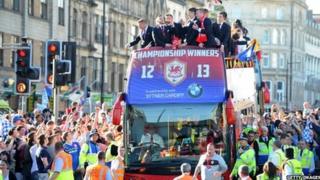 In the last three years, Wales' top two football clubs won promotion to the Premier League.
Swansea won promotion in 2011 and was followed by Cardiff earlier this year.
So what does it mean for a city when their club hits the big time?
After Swansea's success in reaching the Premier League Cardiff University research claimed the club's first season alone was worth £58m to the economy.
The Swans being in the top flight also created or protected around 400 jobs, according to the report.
Graham Morgan, director of the South Wales chamber of commerce, said: "It is an impressive figure when you analyse what was involved in that.
"There was a significant increase in salaries paid by the stadium as a result of being in the Premier League so I suppose there was an employment impact on that.
"Clearly there was an element of that which spun into the local community.
"I think the big opportunities are still to come into the tourism and leisure industry as the continuity of Swansea remaining in the top flight continues."
Swansea's fans were also taking to the streets earlier this year celebrating the club's first major cup win after lifting the Capital One Cup and gaining a place in Europe.
Among those in the crowd to welcome the team home from Wembley were two students from different African countries who said they had chosen Swansea as a university because the city had a Premier League club.
One said: "When they got promoted I knew that I wanted to come here because I was just extremely excited about being part of a Premier League experience."
In fact Swansea University says it has had more than a 20% increase in student applications from domestic and international students - much of which it puts down to the city hosting a Premier League club.
Cardiff University says it cannot predict yet what the impact on its student applications will be of Cardiff City's promotion.
But in Swansea, the city's university has formed strong links with the Swans.
In Fairwood, a multi-million pound facility is being constructed which will provide a training ground for both the Premier League club and university students.
Noel Thompson, pro vice chancellor at Swansea University, said the club was investing up to £7m in the site which it was leasing from the university.
"That is going to give us and them seven pitches of Premier League quality and two all-weather pitches," he added.
"It will give us and them a really impressive set up of facilities and of course that adds to the quality of the sporting experience that we can offer our students and that doesn't go unnoticed as far as prospective applicants are concerned."
Starting point
One of the biggest beneficiaries of the club's promotion in 2011 into the Premier League has been the service industry - hotels, restaurants and bars.
Mandy Gwyn, director of sales at the Marriot Hotel in Swansea, said fans have been coming back to visit the city after a Premier League trip.
"We've definitely seen an increase in occupancy levels, especially on weekends," she said.
"We're seeing people coming down for the games, maybe the first season, coming back for extra nights or bringing their family to see tourist attractions, or even just to spend some time in Swansea and realising what a fantastic city it is."
Of course Cardiff is coming from a very different starting point to Swansea as it already has a high profile as a capital city.
It is used to hosting large events like rugby internationals, concerts at the Millennium Stadium or shows at the Wales Millennium Centre in Cardiff Bay.
But Cardiff council says the city will take advantage of the possibilities presented in the coming months.
And Mr Morgan from the South Wales Chamber of Commerce says having two clubs from the region in the Premier League will multiply the benefits.
"Instead of Man City supporters coming to Wales once a year, they're coming to Wales twice a year. I really think the opportunities will not double, it will go higher than that," he added.
"When you come back to the local businesses, they have got to think about what product or services they are currently delivering and how they can physically capture the opportunity on the back of that association.
"It doesn't mean they have to be avid football supporters, they have to be avid businessmen and see in which way they can use the focus that's going to come on south Wales to extend their markets."