National Eisteddfod: Chair prize withheld from poets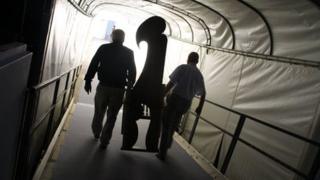 One of the National Eisteddfod's most prestigious prizes has been withheld because the work of the poets taking part was not up to standard.
The Chairing of the Bard is a highlight of the cultural festival and honours the winner of a poetry competition.
But judges took the "disappointing" decision not to award the chair to any of the 12 entrants at this year's event in Denbigh.
They said "glitches" in entries had not been "ironed out".
It was the 15th time in the history of the competition - since 1880 - that there had been no winner of the chair.
The last time the chair was not awarded was at the 2009 eisteddfod.
In a statement, the eisteddfod said that it had been an "interesting competition" and the three adjudicators had discussed the work for many weeks.
"The disappointment this year is that the entries - for whatever reason - have been sent without adequate care being taken to iron out the last few glitches," it said in a statement.
"Encouragingly however, two of the competitors showed they have the ability to win the chair at the national, and a number of the others were within reach of winning.
"But in 2013, the chair is withheld."
Each year a new bardic chair is specially designed and made for the eisteddfod.
It is awarded, along with a cash prize, to the winner of a competition to write a collection of poems, all in strict meter on a specific subject.
This year the oak chair was shaped to show Denbighshire's landscape from the sea to the mountains.
The success of the chair has been mixed whenever Denbigh has staged the eisteddfod, with no winner either in 1882 or 1939.
However, it was the place where Mererid Hopwood became the first woman to take the honour in 2001.