Thousands fail to appear in court in Wales in 2012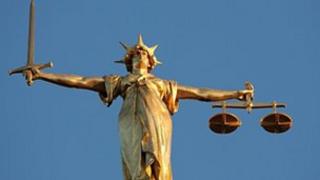 Thousands of defendants failed to appear at courts in Wales last year, causing "significant and costly" problems, BBC Wales has learnt.
They included people accused of more serious crimes including sexual offences, violence and robbery.
The probation officers' union Napo said the problem meant high costs to taxpayers and the courts service.
The Ministry of Justice said most defendants do turn up when ordered and arrest warrants could be issued.
Almost 8,000 defendants failed to appear in Welsh courts in 2012, according to details obtained under the Freedom of Information Act by BBC Wales' Welsh-language news website Newyddion Ar-lein.
That represents a fall from the 9,923 defendants who did not turn up in 2011 but an increase on the 5,143 who failed to do so in 2010.
Ian Lawrence, general secretary of the probation officers' union Napo, said: "It's a significant and costly problem.
"It means high costs to the taxpayer, considering legal aid for defendants, the costs of the Crown Prosecution Service, the courts service, and keeping people in custody - some of whom are not guilty.
"This is what happens when you privatise whole swathes of the justice system."
Last year a total of 2,307 defendants failed to appear in court to face theft and handling charges, 348 failed to appear for violence offences, and another 28 on sexual offences.
However the Ministry of Justice said the majority of people did turn up to court.
"Those who do not can face a charge of failing to appear and the court can issue a warrant for their arrest," said a spokesperson.
"In some circumstances the court can deal with the case in the defendant's absence to avoid unnecessary delays."
The ministry said it did not have published figures on the costs of people not turning up to court when ordered.