National Botanic Garden dragon tree flowers after 25 years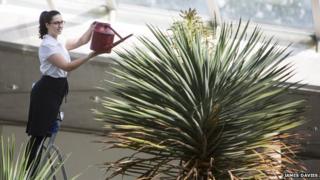 A dragon tree under threat in its native Canary Islands has flowered in Carmarthenshire for the first time in 25 years following the heatwave.
The plant - Dracaena draco - has produced its flower spike at the National Botanic Garden of Wales.
The bloom is expected to reach 4ft (1.2m) on the tree that was already 15 years old when it was planted.
The tree derives its fairytale name from apothecaries who thought its reddish resin resembled dragons' blood.
It is housed at the Great Glasshouse at the garden in Llanarthne, near Carmarthen.
Horticulturist Marilla Burgess said: "It's very exciting.
"It wouldn't normally flower in our climate as it is a good bit cooler than the Canaries but the recent hot spell appears to have triggered this rather historic, middle-aged flowering."
The tree's resin was used in substances including wood stain and was one of those used on Stradivarius violins.