More 'everyday' Welsh would boost language confidence says study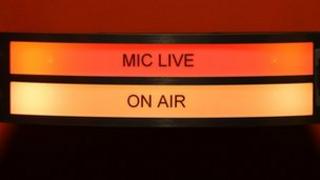 Using more "everyday" Welsh on TV and radio could help boost the confidence of Welsh speakers, a report says.
Researchers found that the fear of getting things wrong was one of the main reasons why people chose not to speak Welsh.
They said people needed to be reassured that the way they spoke, including using some English words, was as acceptable as perfect Welsh.
The Welsh government, the BBC and S4C jointly commissioned the study.
Published at the National Eisteddfod in Denbigh on Thursday, the research found younger Welsh speakers were the least likely to use the language.
Just 36% of the 16-24 year olds interviewed said they always or usually spoke Welsh with friends, compared to 61% of over 60s.
Leaving school was identified as a time when some people's use of Welsh diminished.
The younger age group was most likely to have started speaking Welsh at nursery or primary school, rather than at home.
It was also more likely to say that English was the language spoken at home, suggesting involvement with Welsh was mainly through school.
Of the 483 people surveyed, 84% said they would welcome the chance to use Welsh more and 61% wished they could speak better Welsh.
The report highlights the need to reassure Welsh speakers about the standard of their Welsh.
"A starting point could be for Welsh speakers to see and hear everyday Welsh more often through TV, radio and digital content which better reflects the language used in their lives," it says.
'Significant investment'
A high proportion of Welsh speakers consumed traditional Welsh-language media: 81% of Welsh speakers said they had watched S4C within the month of the survey.
However, using online media in Welsh was considerably less common.
Results from the 2011 Census showed the number of Welsh speakers had fallen by 20,000 over 10 years to 562,000.
First Minister Carwyn Jones said: "It (the report) underlines the need to increase the provision of Welsh-medium activities for young people and to increase their awareness of the value of the language."
S4C chief executive Ian Jones said: "The research confirms what we believed, that the use of digital platforms and social media are becoming increasingly more important."
BBC Cymru Wales director Rhodri Talfan Davies said: "The report notes concerns about Welsh language online services, which is something that BBC Cymru Wales is already addressing with a new and significant investment in developing a new Welsh language online service - Cymru Fyw."