Cpl James Dunsby suffered organ failure after SAS Brecon Beacons training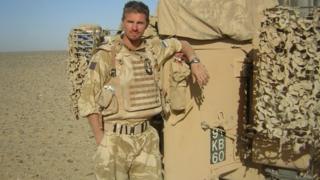 A reservist soldier died from multiple organ failure two weeks after collapsing on SAS selection training on the Brecon Beacons, a coroner's investigation hearing has been told.
Cpl James Dunsby, 31, was one of three soldiers who died after the training exercise during last month's heatwave.
Coroner Louise Hunt told the Aberdare hearing the Human Rights Act would play an "important part" in the investigation into his death.
The hearing was adjourned to September.
Cpl Dunsby, of Bath, Somerset, was one of five soldiers who collapsed on 13 July.
The hearing was told a preliminary post mortem examination found Cpl Dunsby, who served as a TA reservist with the Royal Yeomanry, died from "multiple organ failure" two weeks later in hospital.
Paramedics were called to the Storey Arms mountain centre.
L/Cpl Craig Roberts - whose funeral was due to take place in Llandudno, Conwy on Thursday - had already died and four other soldiers had collapsed on different parts of Pen y Fan mountain.
Trooper Eddie Maher and Cpl Dunsby were rushed to Prince Charles Hospital in Merthyr Tydfil.
Mr Maher died three hours later and Cpl Dunsby was left in a critical condition on life support.
He was transferred to Queen Elizabeth Hospital in Birmingham where he died on 30 July.
Det Sgt Carole Williams, of Dyfed-Powys Police, told the hearing they were waiting for a further pathologist's report on Cpl Dunsby.
The investigation is being led by Dyfed-Powys Police and the Health and Safety Executive.
The coroner said the investigations into the three deaths would be conducted with Article Two of the Human Rights Act - which guarantees a "right to life" - playing "an important part".
She said: "The state has a duty to protect an individual's life.
"The importance of looking into the wider circumstances of these deaths is that article two of the Human Rights Act will come into play.
"Any verdict must incorporate failings if any are identified."
The hearing will resume on 3 September. Members of the armed forces are expected to give evidence.
An Ministry of Defence spokesman said: "The Army is co-operating fully with this investigation. It would be inappropriate to comment further until it is complete."