Mold Gold Cape on display at Wrexham Museum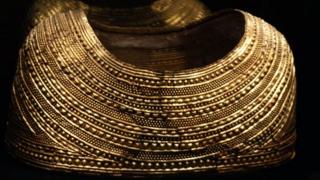 A ceremonial Bronze Age gold cape which was discovered in Flintshire 180 years ago is on display in Wrexham.
The Mold Gold Cape, thought to have been a woman's, was last shown at Wrexham Museum in 2005, when it attracted 11,500 visitors in 12 weeks.
It was made about 3,700 years ago from a single sheet of gold.
Also on show is the 4,000-year-old "Lady of Llong" necklace, made of shale and jet, discovered close to where the cape was buried.
The cape is one of the British Museum's most prized artefacts, but it has been loaned out and was displayed in Cardiff between July and early August.
John Gammond, of Wrexham County Borough Museum, said it was "amazing" to have the cape back in north east Wales.
"It's an iconic object in Wales, and especially this part of Wales," he added.
"It's one of the top 10 treasures in the British Museum, and when they drew up the list, number one was the Mold Cape.
"It's good to see it back. Last time, it came in a padded case. This time, it travelled business class - in a huge case, surrounded by beads so it could suffer no possible damage during transit."
The cape is being displayed on its own in a dark room within Wrexham Museum.
Also on show is a 4,000-year-old necklace discovered in the same valley, about two miles (roughly three kilometres) from the cape.
The "Lady of Llong" necklace, which consists of 788 beads and is made from jet and shale, is on loan from Mold Museum.
Until recently, it had never been re-strung as it would have been when it was made - believed to be somewhere between 200 BC and 1,900 BC.
Mr Gammond said: "Dr Alison Sheridan, who's president of the Historical Society, was at a conference in Cardiff about the Mold Cape, and she heard the necklace was coming here.
"She got in contact and said she could re-string it for us, tell us what it's made of and so on, and came to see us almost straight away.
"It now looks like it would have when it was placed in the grave. Before, it was just a jumble of beads."
Many of the beads are so small, Mr Gammond said toothpicks were used to handle them. There is also evidence that some of the necklace components had been re-used, he said.
Dr Alison Sheridan, of National Museums Scotland, who re-created the necklace, said: "It would have been worn, fairly tightly strung, as a sort of choker.
"The beads would have extended to just behind the ears of an adult woman, with bare thread continuing to the back of the neck."
She said the necklace currently contains 788 disc beads, but it is thought some are missing and it would have originally contained 954.
The cape will be shown in Wrexham from 7 August to 14 September, 2013.