50 bats rescued after fire at St Fagans museum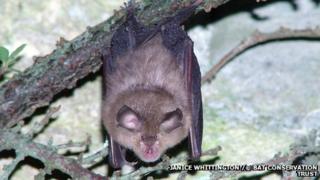 Fifty bats had to be rescued after a small fire broke out in a museum building they were roosting in.
Firefighters were called to the tannery building at St Fagans National History Museum on the outskirts of Cardiff to deal with an electrical fire.
Museum staff trained to handle bats were called to help relocate the lesser horseshoe bats which were roosting in the rafters of the building
The species, one of the smallest in Britain, has protected status.
South Wales fire and rescue said crews from Ely, Whitchurch and Cardiff Central were sent to the museum, which has re-erected more than 40 original buildings from different historical periods for people to visit, after reports of a fire in the tannery.
Crews dealt with "a very small" electrical fire on the ground floor of the building.
The bats were rescued and relocated to a different part of the building during the incident on Wednesday morning.
A spokesman for the museum said the 50 resident bats were unaffected by the fire.
"It was a very very small fire but quite smoky," he said adding that the bats were moved as a precaution.
"They were quite easy to deal with because they were sleepy and we moved them from one area of the tannery to another."
The museum, which has a conservation officer, monitors the 50 bats that roost in the tannery.
"They were unharmed and unaffected," added the spokesman.